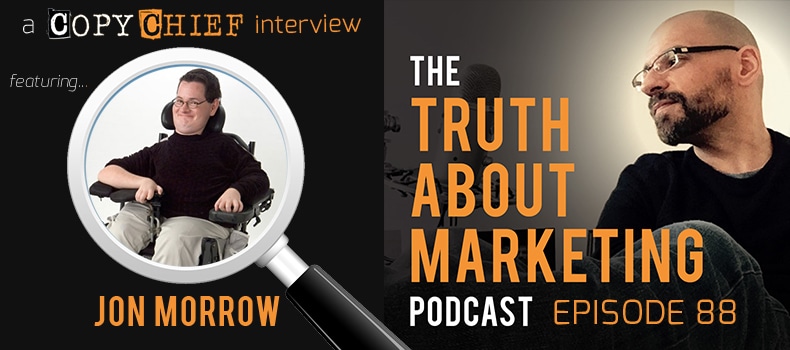 In This Episode
My guest today is Jon Morrow. Jon writes blog posts that get MILLIONS of visits. His readers hang on his every word… and he'll be the first to tell you, none of that means a thing if you're not attracting BUYERS to your blog.
A little background on Jon…
When Jon was born, he was diagnosed with a neuromuscular disorder called Spinal Muscular Atrophy, which left him confined in a wheelchair and stuck with sky-high medical bills.
The doctor told his mother he wouldn't live past childhood. She told them that simply was not an option. Jon carries that "no excuses spirit into everything he does.
He became the #1 blogger for CopyBlogger, then created his own leading site at smartblogger.com and has now helped millions of bloggers turn their words into thriving businesses.
In today's episode, you'll discover Jon's strategies on turning blog posts into irresistible pieces of content that gets read by millions of people.
5 "Can't Miss" Moments:
10:50 – How to casually invite yourself to speak with high-level people (and close 100% of the time!)
28:34 – Jon reveals how to master blog headlines and use it to consistently create viral articles filled with hundreds of comments and/or shares
31:04 – How to use proof as a way to quickly and effortlessly build content and authority
36:45 – Why using the right search terms could produce a 3x difference in your Lifetime Customer Value (Check out how Jon was able to track this and focus on using keywords to speak directly at his best prospects)
44:57 – The crucial step Jon takes before building ANY new products, even if he has thousands of new leads every month (Plus, why skipping this always results in wasted time, energy, and money building something nobody will ever buy)
Resources
A post that attracts high value traffic: https://smartblogger.com/make-money-blogging/
A post that attracts low value traffic: https://smartblogger.com/?s=power+words
Popular posts on Smartblogger: https://smartblogger.com/category/popular/
On Dying, Mothers and Fighting For Your Ideas: http://www.copyblogger.com/fight-for-your-ideas/
Show notes & bullets written by Tim Woo. You can reach him at timothyhwoo.com.
[podcast_optin]
Disclaimer: Every effort has been made to accurately represent our product and it's potential. Any claims made of actual earnings or examples of actual results can be verified upon request. The testimonials and examples used are exceptional results, don't apply to the average purchaser and are not intended to represent or guarantee that anyone will achieve the same or similar results. Each individual's success depends on his or her background, dedication, desire and motivation. As with any business endeavor, there is an inherent risk of loss of capital and there is no guarantee that you will earn any money.