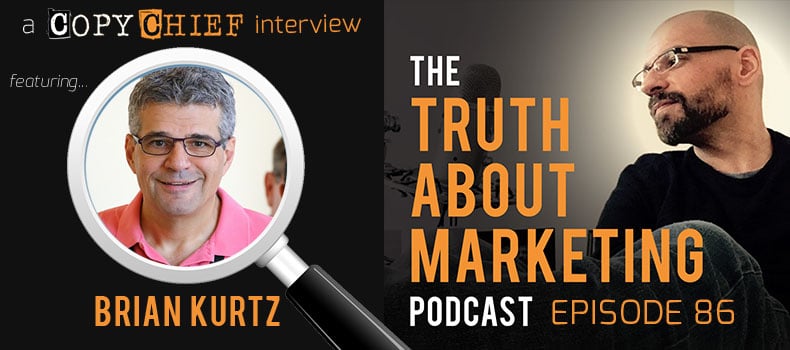 In This Episode
Another hot episode with the man who is credited with mailing over 1.8 billion pieces of direct mail during his time with Boardroom and Rodale.
My guest today is Brian Kurtz, coming back for his third time on Truth About Marketing… and there's a good reason for it.
Brian is here to give us a preview on his newest book (co-authored with Craig Simpson) titled "The Advertising Solution". This tool will give you rich insights on 6 copywriting legends as well as the principles that rule direct response marketing today.
In this episode, Brian and I talk about who these legends are and what they've done to change copywriter's role in marketing. We also talk about the future of copywriting, and where you can find the next generation of writers that will shake the industry.
5 "Can't Miss" Moments:
3:35 – Discover the real skillset of an in-demand copystar and why better copy chops is NOT what you need to succeed
9:06 – How to get all the best tips and principles the 6 greatest copywriting legends shared without spending hours reading through books
42:40 – Do you make these mistakes in copywriting? (Why most copywriters use swipes incorrectly, and how to fix it using this new book)
54:40 – How Brian and I plan to complete the bridge between the next generation of copywriters (like you) and business owners in direct response (And how to get front row seats of this brand new event)
59:04 – The complete checklist of everything you must have as a copywriter to work with the titans of direct response
Bullets written by Tim Woo. You can reach him at timothyhwoo.com.
Resources
You may not know it when you see it
The next million dollar copywriter
Tested Advertising Methods (4th Edition)
[podcast_optin]
Disclaimer: Every effort has been made to accurately represent our product and it's potential. Any claims made of actual earnings or examples of actual results can be verified upon request. The testimonials and examples used are exceptional results, don't apply to the average purchaser and are not intended to represent or guarantee that anyone will achieve the same or similar results. Each individual's success depends on his or her background, dedication, desire and motivation. As with any business endeavor, there is an inherent risk of loss of capital and there is no guarantee that you will earn any money.