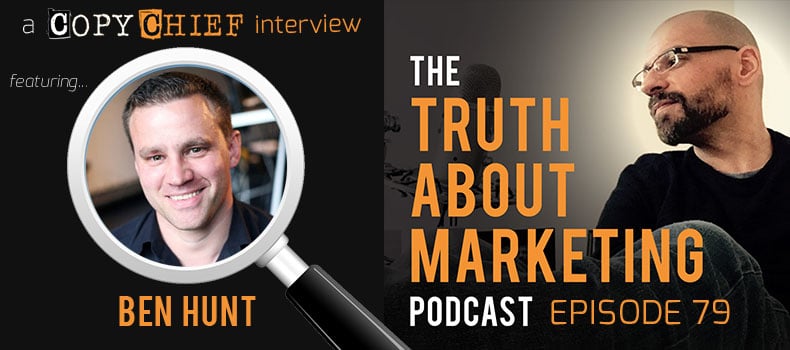 In This Episode
Where were you when the internet started? Ben Hunt was just a lowly college student making a fortune off the new craze. He could build anything you wanted, from a website to a fancy 3D logo.
Since then, Ben's authored several books on web design, presented at conferences around the world, and built the most comprehensive web marketing training course available today.
But believe it or not, Ben has a BIG beef with web marketing. He's studied it all: SEO, conversions, you name it … and he's the first to tell you that most of it is crap.
In today's episode, Ben explains why so many web marketing tactics actually destroy your online business, and how he accidentally discovered a trade secret that NO designers were talking about: direct response copywriting.
We also discuss the groundbreaking system he developed that ensures your website always gets you good results, and how it's changing the way marketers do business online.
5 "Can't Miss" Moments
5:00 – "We're drowning in options for marketing." Ben explains the lethal danger of tactics, and how they turn your sales funnel into the Frankenstein monster.
10:30 – How to stop yourself from jumping on the "marketing tactic" bandwagon (And why it's the #1 mistake people make in marketing)
16:30 – "It's like going to the drug dealer to solve all your problems." Why your marketer is the LAST person you should ever turn to for marketing advice.
20:30 – Why a good understanding of copy is like rocket fuel for your career no matter what you do for a living (even if you already think you're an expert).
23:30 – Does YOUR site measure up? Ben explains the marketing system he developed that guarantees your success every time you use it … and why he's giving it all away for free on his new website.
What's the one thing Ben's done that's produced the most surprising result?

Ben shares how he's "accidentally" managed to keep relentlessly innovating while avoiding stupid levels of risk. Plus, why he took a growing email list of 22,000 subscribers … and threw it in the trash.

Check it out at 29:00.
Show notes written by Carolynn Ananian. You can reach her at http://cananian.com/
Resources
"Start with Why" by Simon Sinek
[podcast_optin]
Disclaimer: Every effort has been made to accurately represent our product and it's potential. Any claims made of actual earnings or examples of actual results can be verified upon request. The testimonials and examples used are exceptional results, don't apply to the average purchaser and are not intended to represent or guarantee that anyone will achieve the same or similar results. Each individual's success depends on his or her background, dedication, desire and motivation. As with any business endeavor, there is an inherent risk of loss of capital and there is no guarantee that you will earn any money.