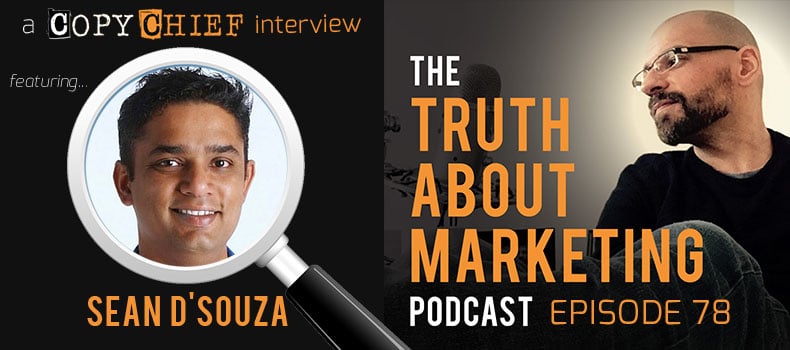 In This Episode
My guest today is Sean D'Souza, a cartoonist turned marketer.
Early in his career, Sean consulted businesses, but never saw his work implemented. While he continued to get paid to do nothing, the meaningless work made him wonder, "is this really how it's supposed to be?"
His answer led him to go after businesses who were "forced" to implement his strategies to keep the business alive.
These days, he teaches small business owners to understand the psychology of why some customers buy (and why others don't) at PsychoTactics. He also teaches similar concepts in his book called, The Brain Audit.
In today's episode, Sean reveals how he's able to run his business and still take months of vacation (without looking at a single email). He also reveals two formulas he created that teaches people how to pick up a new superpower, and guarantees people will buy without a lengthy sales letter.
5 "Can't Miss" Moments
2:40 – How a seemingly trivial task of "reanalyzing what you've done for your clients" is responsible for doubling (even tripling) the impact of your products
6:32 – The one simple trick to take a 3 month vacation and still run a successful business (Hint: it's not about working around the clock OR making as much money as you think)
10:47 – How to "trick" students into becoming experts using Sean's formula (Most people get the first two, but completely miss the last part — do you?)
17:29 – The counterintuitive reason for writing long content (and how to use it as "a drug" that keeps readers coming back to buy from you)
22:47 – The Third Conversion Rule every prospect must go through (Using it correctly guarantees the sale, even with just 6 lines of copy)
What's the one thing Sean's done that's produced the most surprising result?

Sean's seemingly simple answer has increased his list by 800%. While the strategy itself seems obvious, the results and insights you'll gain from it is worth its weight in gold.

Check it out at 32:50.
Show notes written by Tim Woo. You can reach him at timothyhwoo.com
Resources
The "Three Month Vacation" Podcast
[podcast_optin]
Disclaimer: Every effort has been made to accurately represent our product and it's potential. Any claims made of actual earnings or examples of actual results can be verified upon request. The testimonials and examples used are exceptional results, don't apply to the average purchaser and are not intended to represent or guarantee that anyone will achieve the same or similar results. Each individual's success depends on his or her background, dedication, desire and motivation. As with any business endeavor, there is an inherent risk of loss of capital and there is no guarantee that you will earn any money.