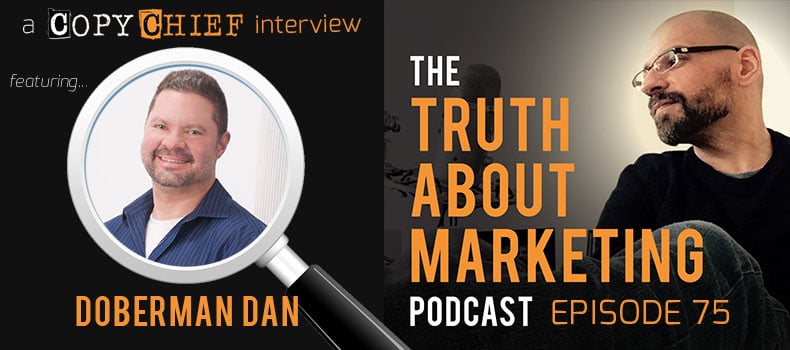 In This Episode
Doberman Dan's never been the kind to follow the rules. He didn't start his career in marketing but as a cop breaking up domestic disturbances.
Desperate for a change, he launched his first company and handled all the copywriting himself because he couldn't afford a copywriter…making him a rare marketer with a foundation in business.
Since then, Dan's founded (and sold) multiple successful companies. Now, he runs his own copywriting consultancy and shares an exclusive newsletter for renegade entrepreneurs at dobermandan.com.
In today's episode, we cover a ton including:
Hardcore lessons about human psychology

How Dan stumbled upon so many amazing career opportunities

How to compel an audience with emotions, not facts

Dan's worst business mistakes, and how he still came out on top

… and much more
5 "Can't Miss" Moments
1:30 – "I learned so much from that man, it was insane!" How Dan's apprenticeship with Gary Halbert still resonates with him decades later … and why you need a mentor willing to teach you lessons when you're NOT ready for them.
3:30 – "A multi million dollar education for any copywriter." Dan shares a powerful lesson about dealing with difficult people.
8:15 – The critical weapon you need to bring to every fight or you'll get your butt kicked. (This advice literally saved Dan's life and made him millions of dollars.)
10:00 – The eerie similarities between a cop and a copywriter, and how Dan stumbled into careers for both.
25:00 – The boring and unpopular tactic that's earned Dan more business than he knows what to do with.
What's the one thing Dan's done that's produced the most surprising result?

Dan's answer is a rollercoaster ride. He explains how he turned a "sure thing" with a guaranteed 400% ROI into an overnight flop … and ended up with a bill from Penthouse magazine for $40,000.
Check out his answer at 27:30.

Show notes written by Carolynn Ananian. You can reach her at cananian.com.
Resources
[podcast_optin]
Disclaimer: Every effort has been made to accurately represent our product and it's potential. Any claims made of actual earnings or examples of actual results can be verified upon request. The testimonials and examples used are exceptional results, don't apply to the average purchaser and are not intended to represent or guarantee that anyone will achieve the same or similar results. Each individual's success depends on his or her background, dedication, desire and motivation. As with any business endeavor, there is an inherent risk of loss of capital and there is no guarantee that you will earn any money.