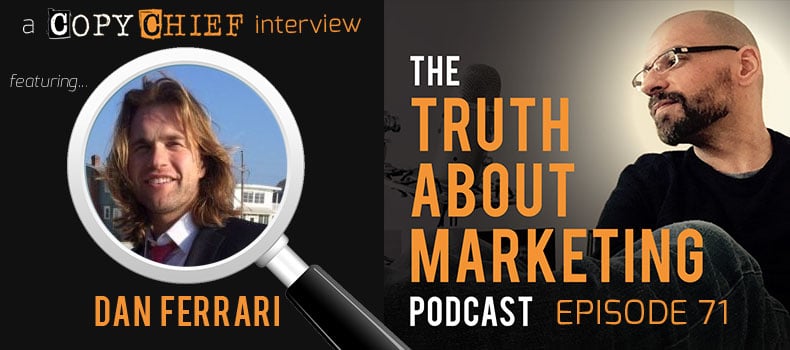 In This Episode
Have you heard of Dan Ferrari yet? If not, it's only because he just exploded onto the scene faster than any other copywriter we know. ("Like Prince riding a pegasus!")
Three years ago, Dan had no clients whatsoever. He'd never even written a sales letter in his life. Nobody knew his name.
Now, he's written controls for the Motley Fool, earned the respect of legends like Gary Bencivenga and Ken McCarthy, and moved to Hawaii. Oh yeah, and now the clients come to HIM!
Today's episode focuses on how to sidestep the mistakes that cause so many new freelancers to blow out. 
Dan opens the show by shooting a hole in the myth that you can't find clients without a portfolio. In Dan's case, he made one up!
He also explains how to overcome rookie mistakes that derail your career before it's even begun, and how to become the respected young copywriter everyone fights to hire.
5 "Can't Miss" Moments:
3:20 – The critical step you need to take TODAY if you want to turn your copywriting "obsession" into a real career. (Hint: If you still expect handwriting ads will save the day, this will make you cry.)
7:00 – The humiliating "slap in the face" that made Dan realize Imposter Syndrome never goes away no matter how big you get. Plus, how to persevere through any setback (even when you totally screw up with a client).
8:30 – "They showed a willingness to invest in me." Dan reveals the truth about building the right client relationships. (Knowing this means you can finally STOP scrambling to pay bills, and finally start making the big bucks.)
13:15 – "You make it harder on yourself if …" Dan explains why he will never again be a one-off freelancer, and why you shouldn't be either if you know what's good for you.
23:50: How food poisoning, a surprise trip to the hospital and a gracious thank you led to friendship with a world famous direct response titan.

Show notes written by Carolynn Ananian. You can reach her at cananian.com/.
Resources
[podcast_optin]
Disclaimer: Every effort has been made to accurately represent our product and it's potential. Any claims made of actual earnings or examples of actual results can be verified upon request. The testimonials and examples used are exceptional results, don't apply to the average purchaser and are not intended to represent or guarantee that anyone will achieve the same or similar results. Each individual's success depends on his or her background, dedication, desire and motivation. As with any business endeavor, there is an inherent risk of loss of capital and there is no guarantee that you will earn any money.