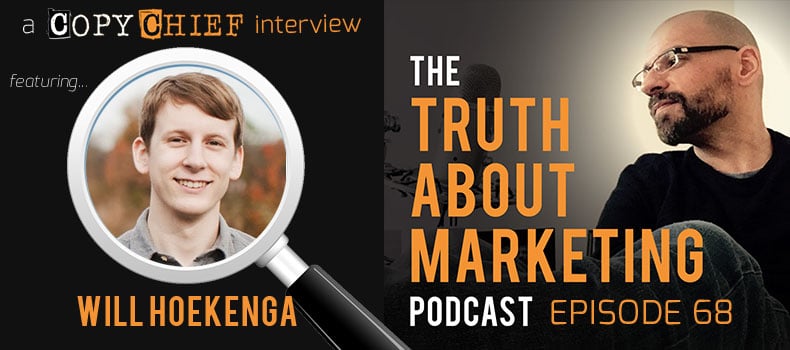 In This Episode
0.10 – Freelancing SECRET! Visit this one site to become booked solid as a go-to authority instead of cold-calling tire-kicking prospects.
7.00 – How to exploit Will's "Copy Hierarchy of Needs" to increase conversions without spending more on copy lessons and freelancers.
9.00 – The question every business MUST ask to make sure they're hiring a competent marketer (This is crucial is you're planning a product launch!)
10.50 – Kevin calls out copywriters who ignore this one basic copy imperative because they want to "emphasize a point".
12.45 – Will's "Action Critical Information" reveals proven customer triggers that deliver sales… even if they're distracted as they read your sales letter.
15.10 – What professional copywriters and bloggers must do that every noob novelists knows instinctively. Master this technique at once to keep customers from clicking away from your offer.
20.15 – Writing a sales letter BEFORE the product's created is unethical right? Wrong. Will gives away his advanced product strategy.
23.15 – Will reveals the secret serum ingredient to breeding loyal, raving fans who make a habit of buying everything you sell. What step never to skip if you want automatic repeat sales.

25.00 – Plus… Cards Against Humanity's marketing plan for diehard fandom and consistent 60% email open rates.
30.00 – If you're overly surprised by your marketing wins, Will shares his one tip to shut up your toughest critic— You.
Bullets written by Max Rouzier. You can reach him at thatmanmax.com.
Resources Mentioned
The Hierarchy of Needs (Copy Edition)
[podcast_optin]
Disclaimer: Every effort has been made to accurately represent our product and it's potential. Any claims made of actual earnings or examples of actual results can be verified upon request. The testimonials and examples used are exceptional results, don't apply to the average purchaser and are not intended to represent or guarantee that anyone will achieve the same or similar results. Each individual's success depends on his or her background, dedication, desire and motivation. As with any business endeavor, there is an inherent risk of loss of capital and there is no guarantee that you will earn any money.