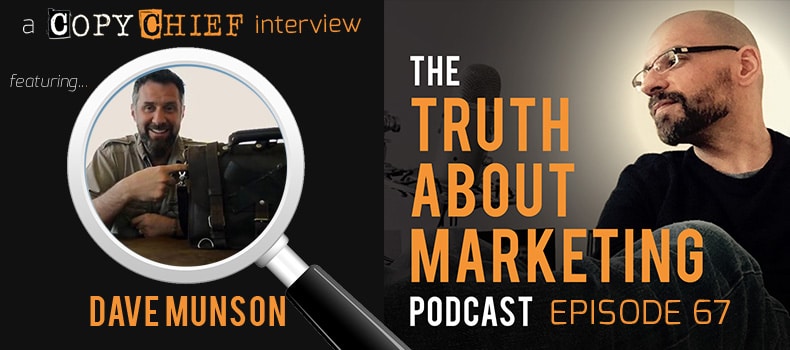 In This Episode
2.59 – Why Dave made an "educational" video teaching knock-off artists how to rip off his designs (and how the video's 500,000 YouTube views became a viral marketing bonanza…)
6.35 – Turning near-tragedy into a bonding story – hear how an attempt on Dave's life in Mexico turned into a killer sales weapon for Saddleback.
9.02 –  Why Dave trusts his customers to drive Saddleback's branding (any ad agency would KILL for this level of customer loyalty!) 
11.10 – How Saddleback used organic product flaws and transformed them into one of a kind gems their customers treasure. (Kevin couldn't wait to see what showed up on his bag)
12.02 – How a "death" slogan became a battle-cry for Saddleback's customers… and why it crushed the cheery alternative suggested by Dave's corporate advertising buddy 
14.58 – How Saddleback turns dicey customer care problems into WOW experiences, transforming even the grumpiest buyers into loyal fans.
17.11 – How Saddleback gets fiery Social Media play without fake contests, auto-following or "chasing likes." (Plus, the four social media platforms producing results now)
21.12 – Why most viral videos leave money on the table… and how Saddleback spun theirs into a media firestorm. (They could literally "watch their sales grow" in a three minute burst)
25.15 – Proof that you don't need a great idea (or any idea) to make a hit video – Saddleback's latest video racks up views… even though it's about nothing. What's the secret?
29.01 – How to become an influencer in your market — without becoming a "wild adventurer or prince charming." (And Dave's shocking offer to help anyone who emails him about it)

Bullets written by Barry Davret. You can reach Barry on his website Barry Davret.
Resources Mentioned
See Dave's videos and killer copy at Saddleback Leather
[podcast_optin]
Disclaimer: Every effort has been made to accurately represent our product and it's potential. Any claims made of actual earnings or examples of actual results can be verified upon request. The testimonials and examples used are exceptional results, don't apply to the average purchaser and are not intended to represent or guarantee that anyone will achieve the same or similar results. Each individual's success depends on his or her background, dedication, desire and motivation. As with any business endeavor, there is an inherent risk of loss of capital and there is no guarantee that you will earn any money.