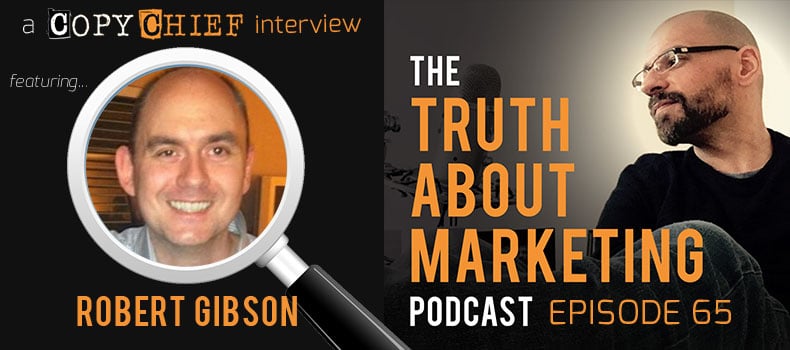 In This Episode
06:20 Why Robert literally RAN out of a luxury hotel after experiencing a vision of Freddy Krueger… at a financial services event
07:35 "People don't mind passion…" but most won't stand for this type of person (this isn't you, is it?)
12:32 Freelancer reality check: your guarantee is worthless to prospects (UNLESS you're prepared to do this one simple thing…)
14:50 Why your levels of passion, dedication and sacrifice must match your client's (listen to Robert's inspiring rant on this, and get ready to produce your best work yet…)
17:02 How to recognize and reject 'Lottery Ticket Clients' before they drag you down into their warped world of BS-marketing
18:40 "There's nothing you can do to save me" – the shocking first-ever call Robert took while working on a suicide hotline, and why his response went against all his previous training
19:50 The crucial crossroads real people arrive at when they read your sales copy for ANY product (plus: why you should worry more about the people who believe your claims than those who don't)
22:50 How taking the opposite approach to everyone around him ended up being Robert's biggest strength, despite being intimidated by all the heat he caught for it
24:50 The amazing success you can generate by caring about and understanding people, even if you work in a non-caring niche or industry
31:55 Why the 'Truth About Marketing' is really about a deeper sort of truth – and what that means for your copywriting career from this day forward
Bullets written by Pete Michaels. You can reach him at Rock and Roll Copy.
Resources Mentioned
Robert Marketing Help << "Robert's weekly emails are the best thing that hit my inbox, by a mile." Kevin
[podcast_optin]
Disclaimer: Every effort has been made to accurately represent our product and it's potential. Any claims made of actual earnings or examples of actual results can be verified upon request. The testimonials and examples used are exceptional results, don't apply to the average purchaser and are not intended to represent or guarantee that anyone will achieve the same or similar results. Each individual's success depends on his or her background, dedication, desire and motivation. As with any business endeavor, there is an inherent risk of loss of capital and there is no guarantee that you will earn any money.