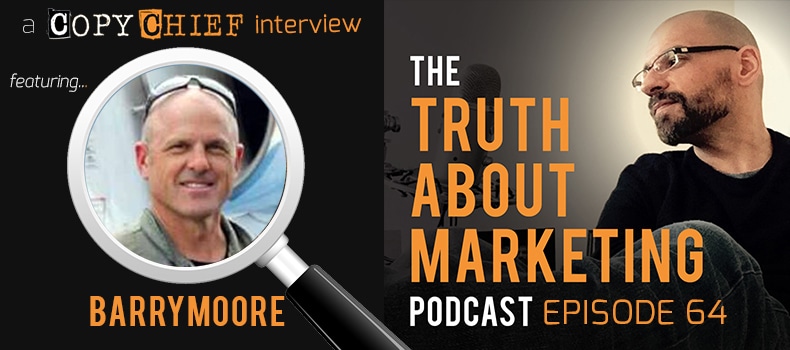 In This Episode
(1.35) The "Big-Lumpy-Red-Robot" technique you need to try BEFORE you reach out to any influencer you want to connect with (and how it won over Kevin in a second)
(6.30) How a Marine Corps fighter jet pilot attracts a raving crowd of clients on day one without the expected lows of starting a business from scratch.
(9.00) Barry's Central Station Funnel how to transport your list from "dead-cold traffic" to "burning-hot fans" who make a custom of buying everything you sell.
(9.50) The 3 steps to plug leaks in your sales funnels that any marketing moron can use to ratchet sales.
(10.20) Why passive planning will make your colleagues laugh at you… until they see you consistently outperform them with each new project you launch. It also proves that experts who say just "start. Start. START." are dead-wrong.
(11.00) The ultimate funnel cheat code to connect with ALL of your best customers wherever they are in the buying process.
(13.50) A one-time task most marketers neglect that you can do right now to position your business so customers pay closer attention to you (and pay more in cash as soon as you do it).
(17.15) How to "design" and "automate" the perfect campaign launch so simply that you could hire complete strangers on the street to do it for you.
(19.00) Why being too smart for your field limits you… and how you can "dumb down" so past and future customers are thrilled to buy your repackaged Greatest Hits.
(23.10) The "toy tool" that takes the stress out of planning. Whether it's planning your sales funnel, business next steps, or some much needed alone time. Why Kevin ends the show early to to play with his "robot".
Bullets by Max Rouzier. You can reach hi at thatmanmax.com
Resources Mentioned
The Truth About Marketing podcast is produced by The Podcast Factory
[podcast_optin]
Disclaimer: Every effort has been made to accurately represent our product and it's potential. Any claims made of actual earnings or examples of actual results can be verified upon request. The testimonials and examples used are exceptional results, don't apply to the average purchaser and are not intended to represent or guarantee that anyone will achieve the same or similar results. Each individual's success depends on his or her background, dedication, desire and motivation. As with any business endeavor, there is an inherent risk of loss of capital and there is no guarantee that you will earn any money.