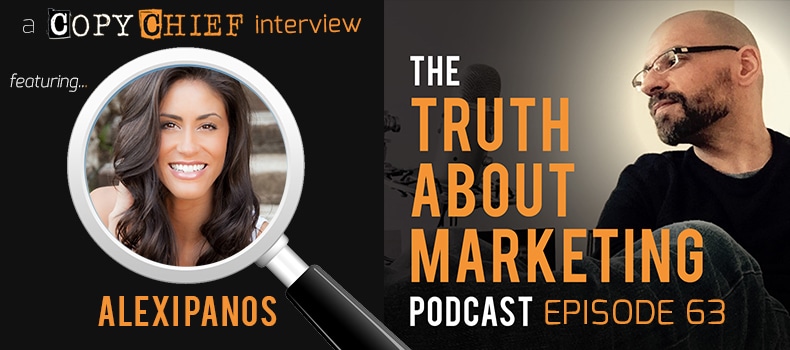 In This Episode
2.53 – Alexi's "one-two-punch of awesomeness" for creating life changing transformations. (She stumbled on to this gem after quitting the rock star life and becoming a bartender)
9.57 – The "Reese Witherspoon" incident that forced Alexi out of her television career and into sharing uplifting videos… and how it snowballed into a book deal, speaking gigs and an online empire
11.39 – How to prod your audience into asking: "Where can I sign up?" – before you invest a penny in creating a new product. (Alexi breaks down her "non-traditional" marketing approach)
15.24 – The simple one-liner Alexi repeats to herself to get past her FEAR of making videos. (It took her three years to make her first one and she still needs to remind herself of this truth)
23.40 – How Alexi racks up sales of her $497 program without the typical guru pitch: "Your life will be awesome if you buy…" (Swipe her counter-intuitive message and try it yourself)
25.10 – How Alexi's spur-of-the-moment (Easter Sunday) launch brought in $50,000 in sales in three days – with ZERO ad spend, ZERO bribes and ZERO sucking up to affiliates.
27.55 – How Alexi's friend blew $9,000 on a custom funnel, only to flatline on sales. What went wrong?
30.05 – How to travel the world and have your happy customers pay all the expenses. (Alexi recently scored a free trip to Hawaii using this technique)
30.53 – An old school (and nearly forgotten) way to win the lifetime loyalty of your customers. (Listen up millennials! This will be new to you)
36.24 – When Alexi went "Raw" in her videos, her message caught on and her business exploded. Do you have the guts to try this?
Bullets written by Barry Davret. You can reach Barry on his website http://barrydavret.com/
Resources Mentioned
The Truth About Marketing podcast is produced by The Podcast Factory
[podcast_optin]
Disclaimer: Every effort has been made to accurately represent our product and it's potential. Any claims made of actual earnings or examples of actual results can be verified upon request. The testimonials and examples used are exceptional results, don't apply to the average purchaser and are not intended to represent or guarantee that anyone will achieve the same or similar results. Each individual's success depends on his or her background, dedication, desire and motivation. As with any business endeavor, there is an inherent risk of loss of capital and there is no guarantee that you will earn any money.