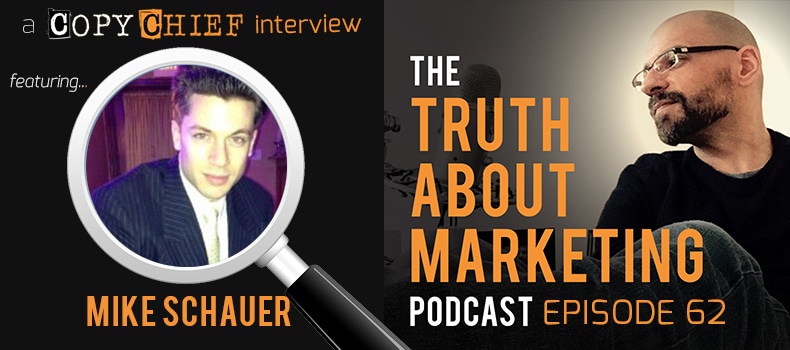 In This Episode
0.40: Mike pulls back the curtain on the breakthrough website that's revolutionizing every smart copywriter's game. (If you're not taking advantage of this sweet opportunity, shame on you.)
5.15: The absolute worst crime someone can accuse you of, if you're a copywriter or a comedian. (Avoid this or your reputation is toast.)
8.00: "Like porn for copywriters." "Gave me a stiffy!" Mike gets a little shy talking about people's x-rated reviews of his copy collection (300 ads and counting).
9.20: "My swipe file's bigger than yours!" Why your swipe file won't save you, and what you need to be doing instead.
28.30: Kevin explains why critics who bitch about typos never make any money.
28.55: Mike finally reveals the 5 Career Ending Mistakes you need to avoid when it comes to the delicate art of swiping copy from the pros.
34.10: Why trying to fit a successful mold is terrible strategy and opens you up to stupid levels of risk.
36.55: How to break down the structure of a winning sales letter and make it work for you 100% of the time no matter the market. (This builds trust with your audience AND helps you avoid a lawsuit.)
38.55: The question you NEED to ask yourself every time you read a popular sales letter, or else you'll never improve. (Few people ever do this, which is why many copywriters are dead in the water and don't even know it.)
43.00: How people keep screwing up the whole concept of market sophistication. (Plus: how to discover EXACTLY which copy elements stand the test of time and give you a license to print money … no matter what decade you're in.)
Bullets written by Carolynn Ananian, you can reach her at cananian.com.
Resources Mentioned
The Truth About Marketing podcast is produced by The Podcast Factory
[podcast_optin]
Disclaimer: Every effort has been made to accurately represent our product and it's potential. Any claims made of actual earnings or examples of actual results can be verified upon request. The testimonials and examples used are exceptional results, don't apply to the average purchaser and are not intended to represent or guarantee that anyone will achieve the same or similar results. Each individual's success depends on his or her background, dedication, desire and motivation. As with any business endeavor, there is an inherent risk of loss of capital and there is no guarantee that you will earn any money.