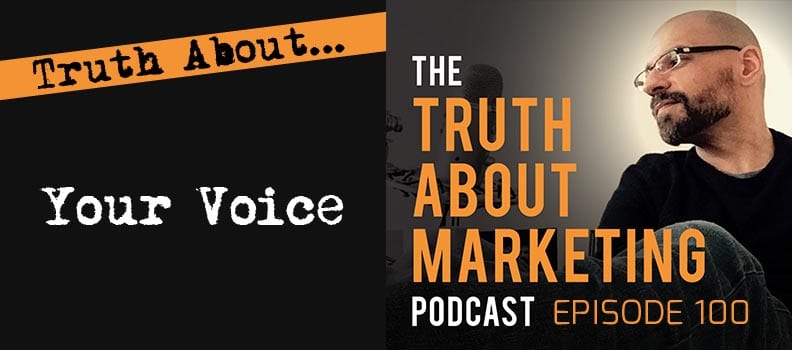 In This Episode
I wanted to do something special to celebrate the 100th episode of the Truth About Marketing podcast — I hope you like it.
No interview today, but we've got some of our best coming up, including a 2-parter with copy legend Parris Lampropoulos that is a marketing course all on its own.
Today I want to swing the mic and talk about YOUR voice.
As marketers, copywriters, representatives of our business, we think a lot about our "why" and "how" we're coming across. It's a critical component to what we do.
When Ryan Lee offered the stage to me at his recent FreedymFest event, I wanted to do something different. The audience would get plenty of tactical copy advice over the two days (including Ben Settle who was the speaker before me) and I was closing out Day 1 of the event.
So, I decided to tell a story about an immigrant child who came to America and discovered a unique musical "voice" in his head. And the journey he took, facing ridicule and bullying, in the relentless pursuit of that voice.
You know this musician well, but if I've done my job, you won't know who it is until I reveal his name and sample his music.
And if you're struggling with finding your voice, or your "why" or just looking for inspiration amidst all the options we have these days… this 30-minute talk will give you some perspective.
Thanks for listening and supporting the show. I have the highest regard for your earhole and the time you give me there each week to deliver something good.
So much more to come!
[podcast_optin]
Disclaimer: Every effort has been made to accurately represent our product and it's potential. Any claims made of actual earnings or examples of actual results can be verified upon request. The testimonials and examples used are exceptional results, don't apply to the average purchaser and are not intended to represent or guarantee that anyone will achieve the same or similar results. Each individual's success depends on his or her background, dedication, desire and motivation. As with any business endeavor, there is an inherent risk of loss of capital and there is no guarantee that you will earn any money.