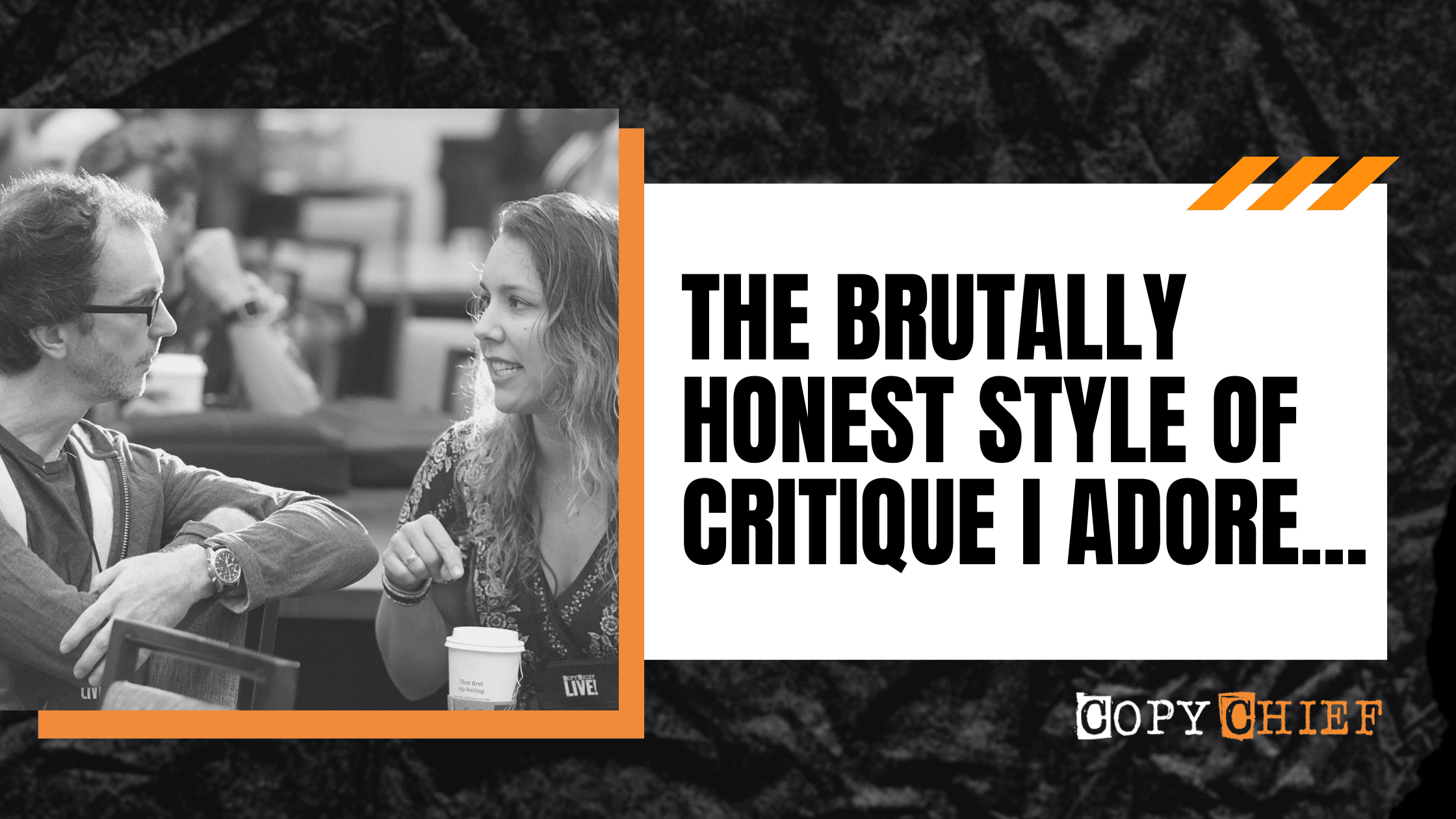 Back in 1990, I drove almost nonstop from my barely furnished apartment in Clearwater, Florida, up and over to Dothan, Alabama for my first ever road gig as a comic.
I was still trying to make it as a comedian back then and the booker called me last minute to cover the show, so I borrowed my dad's 1988 Mercury Cougar and made the 375-mile road trip to perform my twenty-five minute standup routine.
Halfway there, nature called, so I pulled into a tiny gas station just past Tallahassee. In a rush, I pushed open the rusty door and asked the elderly lady behind the counter with "Ms. Loretta" embroidered into her shirt, "Excuse me, ma'am. You got a bathroom?"
Without skipping a beat, she goes, "What, you think I pee in a bucket?"
Ms. Loretta was absolutely correct – my question was poorly phrased. 
That's the brutally honest style of feedback I adore. I share that story in my Freelancer's Journey Book (coming soon!) and it reflects the same brutal honesty I try to include in my own copywriting critiques, sans Ms. Loertta's sass.
In fact in August, I dusted off my teacher's cap (it's actually a beanie) and created a live Masterclass called How To Deliver (and Sell) A Heroic Copy Critique. I broke down how to identify whether a piece of copy will convert well or not in order to position yourself as a true conversion superhero.
That same "Ms. Loretta spirit" was carried into the three Chief Chats I hosted this month. In two of those live online gatherings, me and a panel of pro copywriters got busy critiquing members' copy – offers like the Biz Accelerator, Profit Lab and Couples Sweet Spot.
In the third (and a very special) Chief Chat, I broke down the brand new Profits Unlimited video by Harmon Brothers using the updated 4×6 Copywriting Formula… with special guests, Aaron DeHoog, the product owner, and Jonny Vance, the creative director of the video. No one has ever attempted using humor to sell in the finance niche, so you'll want to check out the replay of the interview and the breakdown here.
The upcoming plan for September is equally exciting – some more brutally honest critiques during a couple of live Chief Chats – and once again members will get to submit their own live copy for a chance to sit in the Hot Seat! 
Plus, there's gonna be a valuable training called The Ultimate Copywriting Workflow: The 9 step process to write sure-fire winning ads every time. This is the go-to checklist you'll want open on your laptop every time you begin working on an ad. 
At Copy Chief, nobody writes alone.
Just make sure to bring your own bucket!
---
Whenever you're ready, here are a few other ways I can help…
Become a member of Copy Chief. It's everything you need to sharpen your skills as a copywriter and build your freelance business – all with a killer support system at your back to help you do it. To learn more, check out this page here. 

Mark your spot on the Freelancer's Journey Timeline. Moving forward in your freelance business starts with identifying where you are right now.  Go here to see the full Freelancer's Journey Timeline and mark your spot. 

Find out what the best in the business do differently with the Copy Chief Radio podcast. Every week we release a fresh new conversation with the top producers and change-makers in the world of marketing, copywriting, and business. Tapping into their minds won't cost you a thang – listen here.