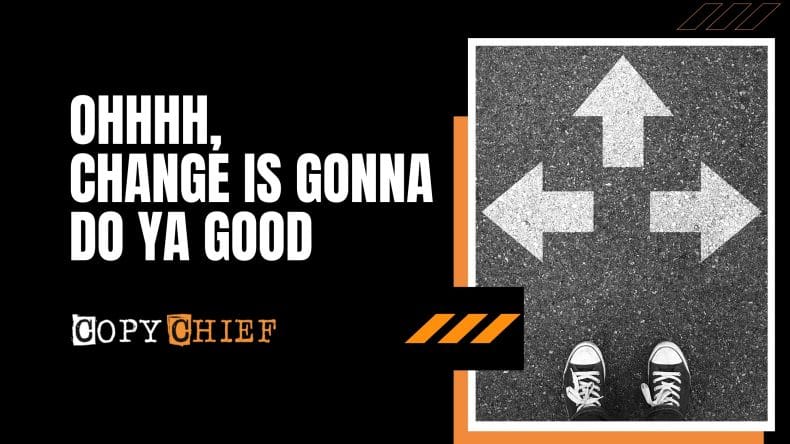 That line from Elton John's "Honky Cat" has been ringing in my head lately.
The song is about a guy who grew up on the farm with dreams of moving to the big city…
When I look back, boy, I must have been green
Bopping in the country, fishing in a stream
Looking for an answer, trying to find a sign
Until I saw your city lights, honey, I was blind
And the pushback he gets from the people around him…
They said, get back, honky cat
Better get back to the woods
Well, I quit those days and my redneck ways
And, oh, the change is gonna do me good
If you've ever attempted to change… your life, your circle, your surroundings… there's a good chance you can relate to the character in EJ's song needing to fuel his own motivation and push past all the resistance.
See, when you have the courage to make changes, you're setting an example to those around you that you have choices in life, and you're willing to take risks to get what you want.
But the idea of choice and change scares a lot of people. So, whether they mean to or not, they fight to keep you from proving by example that change is possible…
… by knocking your ideas and trying to put you back "in your place." 
The place where THEY feel comfortable. 
Because, for most people, it's easier to shrug and complain than it is to accept responsibility and push forward.  
But that ain't you.
If it was, you definitely wouldn't be reading this post right now. 
You've got big plans, and I'm glad to be on the journey with you.
In that spirit, I've spent a lot of "COVID time" thinking about changes I've been wanting to make to Copy Chief. 
September will mark our sixth anniversary!
That's an eternity in internet years, and it's time to refresh some tech.
In case you're not too aware of what Copy Chief is and what we do in there, here's a quick rundown…
The original inspiration for Copy Chief was to recreate the best parts of live conferences… the best presentations that really inspire you and give actionable content… the excitement of meeting new people who really get what you do… the lucrative deal-making that happens through personal connections…

And it worked! Copy Chief members do all those things inside the membership… lifelong friendships, strategic partnerships, and millions of dollars in project work exchanged by our members…

And, over six years, it has grown into so much more than just a great community, it's also the premier copywriting training center on the internet.  
A slew of members have been with us since Day 1, and we've added thousands more great people to "the fam" over the years. Many of them joined at the beginning of their careers and have now become premiere experts across the industry in their specialty…
Mike Rinard with FB ad writing… Rachel Mazza on Advertorial writing… Chris Orzechowski on Email writing… Ross O'Lochlainn on evergreen launch sequences… Angie Colee on chiefing copy teams and mindset mastering… Brian McCarthy on marketing with case studies… April Dykman on control-beating… Dan Ferrari on long-form sales copy… to name a few.
A majority of today's top copywriting experts joined Copy Chief in the early stages of their careers and used our platform as a place to grow their skills, their confidence, their network, and their reputations.
I wake up every day excited about helping the next generation of industry badasses find their unique superpowers (there are so many more ways to thrive in this industry today than when we started).
So we've been hard at work behind the scenes installing an entirely new…
Community discussion forum that's

super mobile-friendly

to use…

New

"Clubs" feature

where you can select which marketing topics you want to go deeper on…

Interactive

Learning Dashboard

for the training videos neatly categorized by topic where you can earn points and badges for completing a training…

Custom

Directory of Copywriters

where you can flash those badges in your profile and get connected with top quality clients through our unique match-making search feature…
Plus, as we say, a whole lot more!
I can't wait to show it to you in the next few weeks.
What kind of changes are you thinking about these days? 
Is there something, or somebody, standing in your way?
If so, I'm rooting for you to get past the resistance and go after what you truly want. 
It ain't easy, but it's sure better than a life of regret. 
Go out and get it…
---
Good news! For a limited time, you can access our best trainings, get unlimited feedback on your copy, and connect with top-level pros for only $97/month! Right now the demand for freelancers is higher than ever. In fact, business owners reach out to us every week looking for copywriters to help them with their marketing. To help fill that growing need for talented freelancers, we want to welcome more freelance marketers into our community by making Copy Chief more accessible than ever with this "summer special." 
Join us for 90-days at $97/mo and get FULL ACCESS to the Copy Chief job board, feedback forum, and our entire training library where you'll learn from the industry's top pros. After the 90 days, you'll have the opportunity to stay on at that price with access to all our trainings, or upgrade and keep your "all-access pass" to the training dashboard AND community forums. 
So now is the best time to hop in at half price and get a taste for it all. That way you can choose what's best for you then. 
Sounds like a pretty good deal, right?  Click here to join Copy Chief and take advantage of this summer special for a limited time.