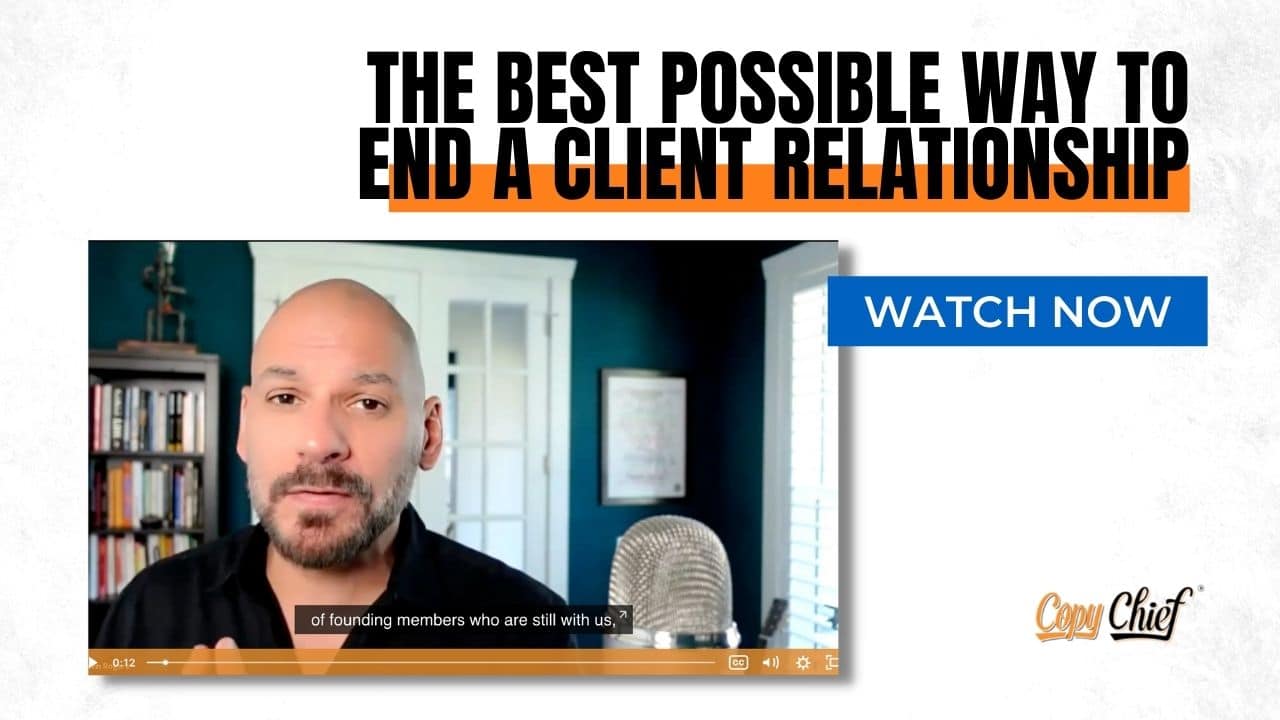 Here's a bizarre story best told through video…

It's six minutes long, which I know is an eternity in the world of 8-second attention spans, but totally worth it if…
You plan to have a career as a freelance copywriter…

(Especially if you plan to focus on FB ad writing)…
You want the world's best tactic for staying in-demand forever…
You believe that relationship capital is the most valuable currency…
You want a rare look at the deal-making of a 100 million dollar ad agency…
You've struggled with the tough decision to end a big client contract…
You want a solid example of how to recognize (and move past) imposter syndrome…
Because of the sensitive nature of this situation, I had to get special permission from the people involved to share this with you. 
They agreed because they realize it is a rare look inside how freelancing deals really go down (not the social media highlight reels we usually see). 
So, here you go… 
***

The story of how a copywriter recruited the best new copy chief for her company, then quit the gig (and why)….

If you're interested in learning more about how my private coaching works, write to us and use the line, "about the coaching" in the subject.
---
P.S. Ready for more? Here are 3 ways we can go deeper…
 
Tap into the #1 copywriting community and jobs board.
Copy Chief has everything you need to sharpen your chops as a copywriter and build your freelance business – including the #1 jobs board in the industry.




Learn how to level-up your freelance business quickly.


Simply reply to this email to ask our Freelance Coaches any question you'd like about launching or growing your business. (These are real coaches, not sales people in disguise.)





You can also

click here to learn which of the 7 "Freelancing Phases" your business is in now.

You'll get the clarity you need to avoid getting distracted, so you can stop "winging it" and focus on the crucial "right now" problems to move your business forward.




Listen to the Copy Chief Radio podcast.

Every week we release a fresh new conversation with the top producers and change-makers in the world of marketing, copywriting, and business.