We surprised our 9-yr-old son with a set of drums for Christmas this year. (The neighbors were less surprised and far less excited about it)
Ben loves music. He's gifted with a natural ear and can often play a tune after hearing it just once or twice. We discovered this a few years ago when after an Apple commercial played on television and he walked over to his Casio keyboard and plunked out the jingle note for note.
(His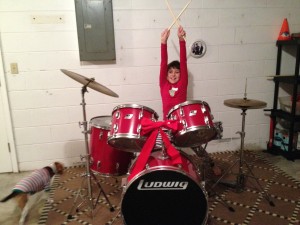 prowess shocks and delights his mom and I because we have 100% passion for listening but zero talent for creating music).
And like a lot of kids, Ben thrives on the attention he gets from performing music.
So, as the aunts and uncles and grandparents and friends all stopped by for a Christmas visit, Ben proudly showed each his Ludwig drum set. And of course he wasn't about to waste a good audience, so he worked out an energetic 2-minute solo to give everyone a sampling of the goods. This included lots of random rolls and fills and climaxed with an extravagant standing double-stick blast of the crash symbol. (Imagine Keith Moon and Sheila E merged into one spastic fit of inspiration)
Ben's spontaneous solo became a little more polished and elaborate with each performance. Eliciting bigger whoops, laughter and cheers with each audience. A fun moment for everyone involved (except the neighbors).
Funny thing happens when you become a parent though…
… while you can't help beaming with pride over even the smallest of your children's accomplishments, you also (I hope this isn't just my own psychosis) can't help wanting them to work harder than they want to at becoming better.
We struggle to let 'em have fun, discover their own interests and be supportive without wandering into the "baby genius" talk.
With Ben's music for instance, we're constantly trying to balance keeping it fun and emphasizing the need for focused practice. I've heard the opening riff to "Mississippi Queen" blare from his bedroom four thousand times… but last I checked there are no gigs for bands that only play the first seven seconds of classic rock tunes. (If there was, they could call themselves AD/HD. Ha!)
So, tucking Ben in last night, I told him how much I liked his drum solo and the way it continued to evolve throughout the day. "Just imagine how awesome it would be a week from now if you worked on it for just 30 minutes a day?" I said. "You could really blow their minds."
He agreed, so I squeezed in the lesson that I hope sticks, because it's an easy one to lose sight of in the instant-gratification society…
(and it's one we can all use as we rush to post just about every thought that enters our heads onto Facebook)…
"Remember, performing is fun… but it's what you do when no one is watching that really makes you great."