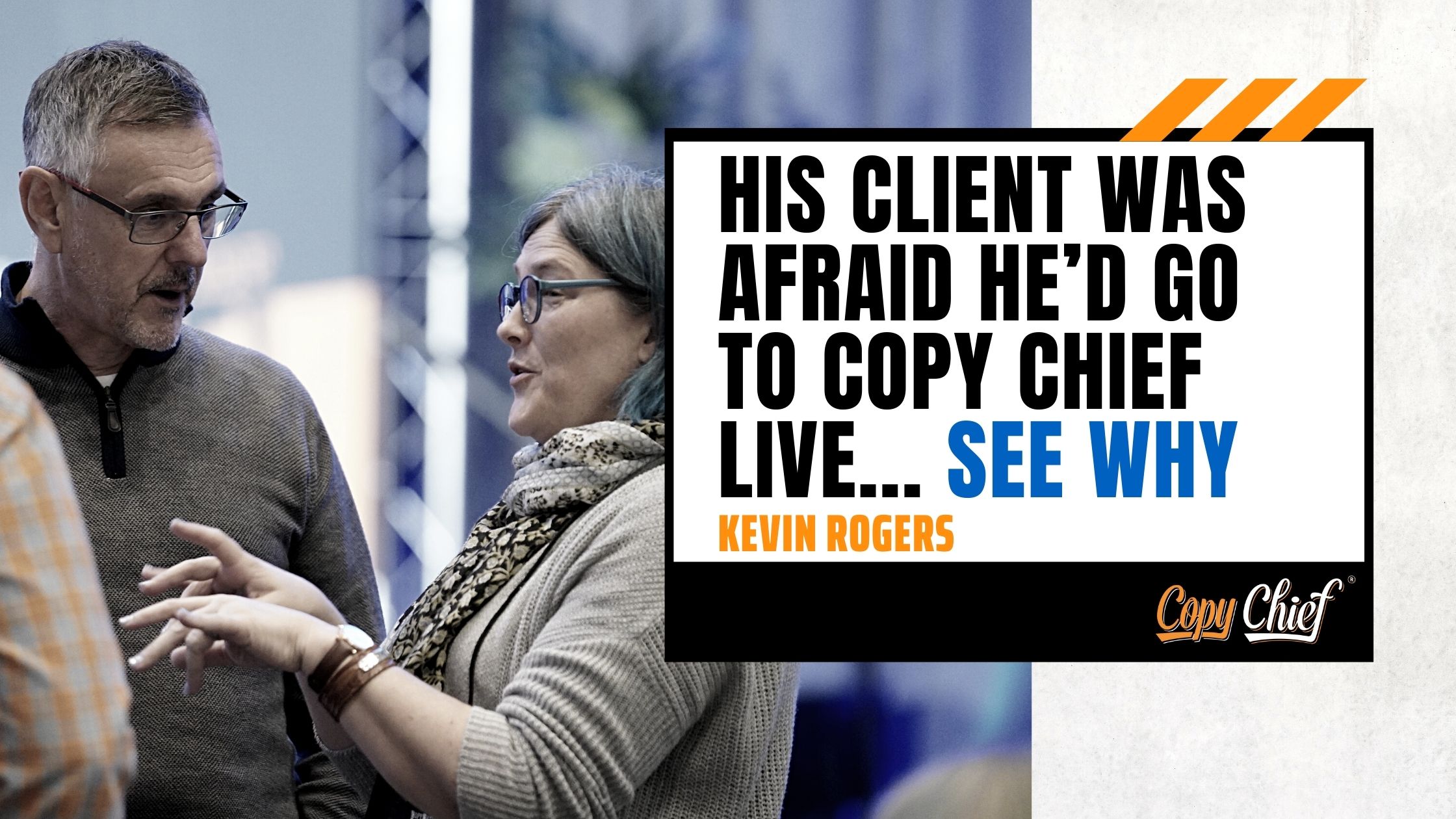 It's no secret that a lot of copywriters who attend Copy Chief Live want to find new clients there.
So why did one company become worried about their favorite copywriter attending this event?
I'll let Derek explain… 
"What happened was, they knew I was going to be at Copy Chief Live so basically that became a negotiating tool for me. They knew Copy Chief Live was such a powerful way to find jobs that they gave me an even better deal."
In other words, Derek's client was worried they might lose him after hearing about the legendary meetups that occur at our Copy Chief Live roundtable event. 
And the way that we've set up this year's roundtable event is even better than it has been in the past. 
This year, we're arranging our virtual roundtables with different businesses based on the type of company and the style of work you'll do for them.
For example, one of the companies hosting a virtual roundtable this year works with one big client at a time. They're looking to bring on a full-time copywriter that handles multiple projects for one client. This would be a great opportunity to really hone your copy chops by becoming an expert in the branding and marketing of one company at a time. (great for those who hate task switching or "starting over" with your research each project!)
Another company focuses on "ad agency" style work. They have a dedicated stable of go-to writers who they give a high volume of small project work. This is great for newer freelancers as you'll work with a lot of different projects, companies, and niches – plus – always have a consistent flow of new work. 
And another featured company is building out its "in-house" team for the long term. With this kind of work, you will be paid a base salary to learn from their team of masters. This is like a paid copywriting scholarship at an elite marketing school.
So, as you can see there are A LOT of different avenues you can take with your career – no matter how you prefer to work with clients, or what type of industry you write for. After going through the roundtables, you'll know who wants to hire you and which style of work is best for you.
This level of clarity makes finding clients so much easier in the future.


Plus, you'll get to connect with companies at The CCL Bootcamp who are ready to hire right now.
Are you ready to join us?
>>> Click here to join us at Copy Chief Live – Freelancing Transformation Bootcamp
See you there!
---
P.P.S. Ready for more? Here are 3 ways we can go deeper…
 
Tap into the #1 copywriting community and jobs board.
Copy Chief has everything you need to sharpen your chops as a copywriter and build your freelance business – including the #1 jobs board in the industry.




Learn how to level-up your freelance business quickly.


Simply reply to this email to ask our Freelance Coaches any question you'd like about launching or growing your business. (These are real coaches, not sales people in disguise.)





You can also

click here to learn which of the 7 "Freelancing Phases" your business is in now.

You'll get the clarity you need to avoid getting distracted, so you can stop "winging it" and focus on the crucial "right now" problems to move your business forward.




Listen to the Copy Chief Radio podcast.

Every week we release a fresh new conversation with the top producers and change-makers in the world of marketing, copywriting, and business.