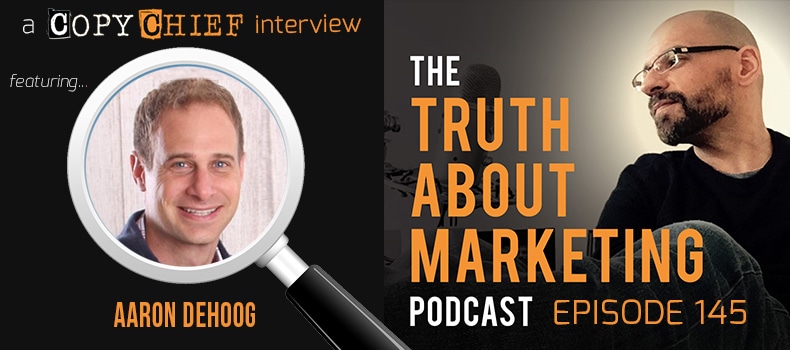 In This Episode
What does it take to break Agora's single-day record for sales?
Not just by a little, either. We're talking old record: $5 million, and you kick out a TWELVE MILLION DOLLAR DAY.
The answer surprised me and I think it will surprise you, too. Especially considering the cut-throat nature of financial newsletter marketing.
The man behind all this is Aaron DeHoog, who is the Executive Publisher at Banyon Hill publishing.
In his 3 years at this post, Aaron has taken Banyon Hill from a wobbling (by Agora standards) 6 million dollar producer to a 100 million producer this year.
I met Aaron at Agora co-founder, Mark Ford's "lair" (his private museum/cigar bar/zen garden) where we talked for 30 minutes about the marketing behind his most successful campaigns. The stuff he shared was quite different from the norm. I couldn't take notes fast enough.
After a bit of prodding, Aaron agreed to come on and share the same behind the scenes secrets on the show. This is Aaron's first podcast interview, so we've got a true scoop here.
Whether you have any interest in the world of financial marketing is irrelevant. If you make your living via information products or understand the importance of "cart value" to your ability to scale, then you cannot afford to miss this episode.
Resources:
Visit Banyan Hill's website here

P.S. Be sure to download the free Copy Chief App (Get it for iOS or Android) where you can get access to all of the podcast episodes, articles and more cool content designed to help you boost your sales.
Disclaimer: Every effort has been made to accurately represent our product and it's potential. Any claims made of actual earnings or examples of actual results can be verified upon request. The testimonials and examples used are exceptional results, don't apply to the average purchaser and are not intended to represent or guarantee that anyone will achieve the same or similar results. Each individual's success depends on his or her background, dedication, desire and motivation. As with any business endeavor, there is an inherent risk of loss of capital and there is no guarantee that you will earn any money.