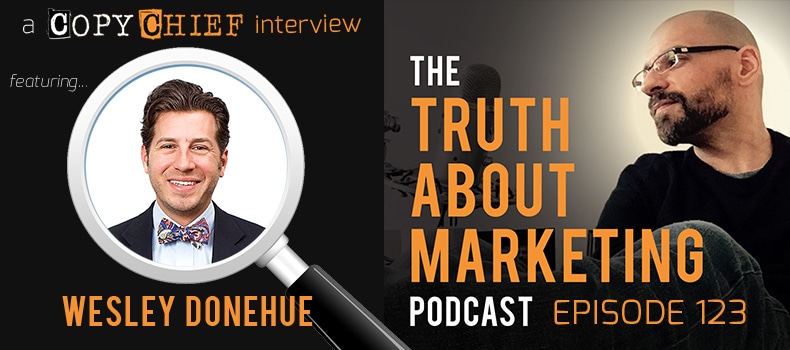 In This Episode
Your audience craves transparency and authenticity more than ever.
In fact, you're more likely to hit your buyer's emotional hot buttons shooting a real, raw video straight from your iPhone…
… than splurging on a big budget production from some high-end agency.
And the game is changing so fast, even political candidates and behemoth corporations are ditching old robotic ways…
… and injecting more authentic messaging into their marketing.
Today I've got Wesley Donehue from Push Digital on the show. Wesley helps businesses and political candidates handle crisis communications. He has worked with SeaWorld, and presidential candidate Marco Rubio.
As he explains in the interview, we're at a critical point in time where people want to see transparency from both businesses and leaders…
… so when you stop hiding who you are and what your business stands for, you'll bond with your audience faster than you imagined possible.
In this episode, Wesley reveals how you can inject business-boosting communication into your marketing… even in the heat of crisis. (You'll want to hear his unique insights from helping bail airlines out of catastrophic PR messes. He weighs in on United's recent PR blunder—where the entire world saw officers drag a passenger off a United plane kicking and screaming.)
"Can't Miss" Moments:
The REAL reason big businesses take ages to respond to a crisis… and the ONE thing you should never do in your business if you find yourself in hot water.
Is life in politics REALLY like "House Of Cards" and "Billions"? (And what to do if YOUR competition ever smears your name in public.)
The persuasion tactics Wesley used to change the beer laws in South Carolina. (And why he moves his agency INSIDE a brewery, and parks his own Pizza truck outside the joint.)
Wesley's trick to conquering ANY digital medium and forging a rock-solid bond with your audience… even if you're a closet introvert riddled with anxiety.
The single biggest mistake most business owners make telling their story. (Hear Wesley's advice on injecting the kind of raw stories your audience

craves

from YOU.)
Resources:
Show notes & bullets written by Max Hamm. You can reach Max at maxhammcopy.com.
[podcast_optin]
Disclaimer: Every effort has been made to accurately represent our product and it's potential. Any claims made of actual earnings or examples of actual results can be verified upon request. The testimonials and examples used are exceptional results, don't apply to the average purchaser and are not intended to represent or guarantee that anyone will achieve the same or similar results. Each individual's success depends on his or her background, dedication, desire and motivation. As with any business endeavor, there is an inherent risk of loss of capital and there is no guarantee that you will earn any money.