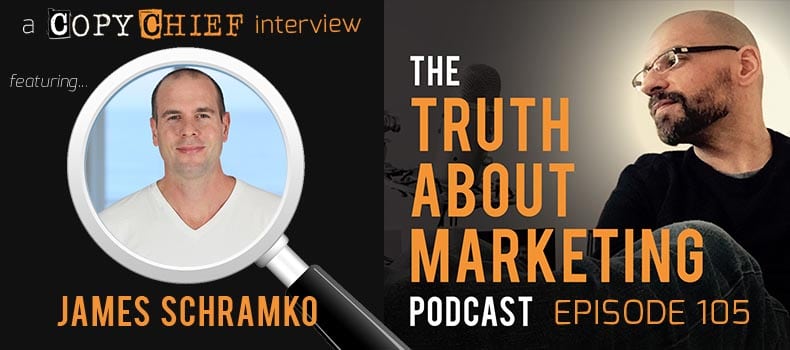 In This Episode
Imagine reading what your babysitter thought of you when you were 4-years-old.
Would it foreshadow the persona you are now, or would you be shocked at what you read?
James Schramko, founder of SuperFastBusiness.com, is known for taking entrepreneurs under his wing and showing them the amazing world of "wealthification".
As James explains in the interview, It boils down to designing a business that fuels your ideal lifestyle… not ending up with a business that dictates your life FOR you.
James recently discovered a document his babysitter wrote about him for a child psychology research paper when he was only four…
… he discovered how much of his life was already "set in stone" without him even knowing.
"The best life tool accessible to anyone is a mirror… have a close look at the person reflecting back at you…" James said during our interview.
Listen to find out what James did to "de-program" all his traditional upbringing, and how he went on to build an 7-figure business that gives him the freedom to hit the surf anytime.
5 "Can't Miss Moments":
The magical moment when Schramko realized he's ALIVE for the first time in decades
How Schramko reprogrammed his brain (like a computer) to delete his old conditioning. (And what new success "software" he installed in his head)
Why you must stop selling your time for money in the new economy. (And exactly what to do instead to get the financial freedom you desire)
The "Jesus Complex" mistake most entrepreneurs make when they find some success
The single biggest reason most business owners quit when growing their business. (And what you can do to help you overcome this)
The two words Schramko said when he saw Kevin's list of excuses NOT to build Copy Chief. (Surprisingly, they are NOT swear words!)
More from James at superfastbusiness.com
Show notes written by Max Hamm. You can reach Max at maxhammcopy.com.
[podcast_optin]
Disclaimer: Every effort has been made to accurately represent our product and it's potential. Any claims made of actual earnings or examples of actual results can be verified upon request. The testimonials and examples used are exceptional results, don't apply to the average purchaser and are not intended to represent or guarantee that anyone will achieve the same or similar results. Each individual's success depends on his or her background, dedication, desire and motivation. As with any business endeavor, there is an inherent risk of loss of capital and there is no guarantee that you will earn any money.