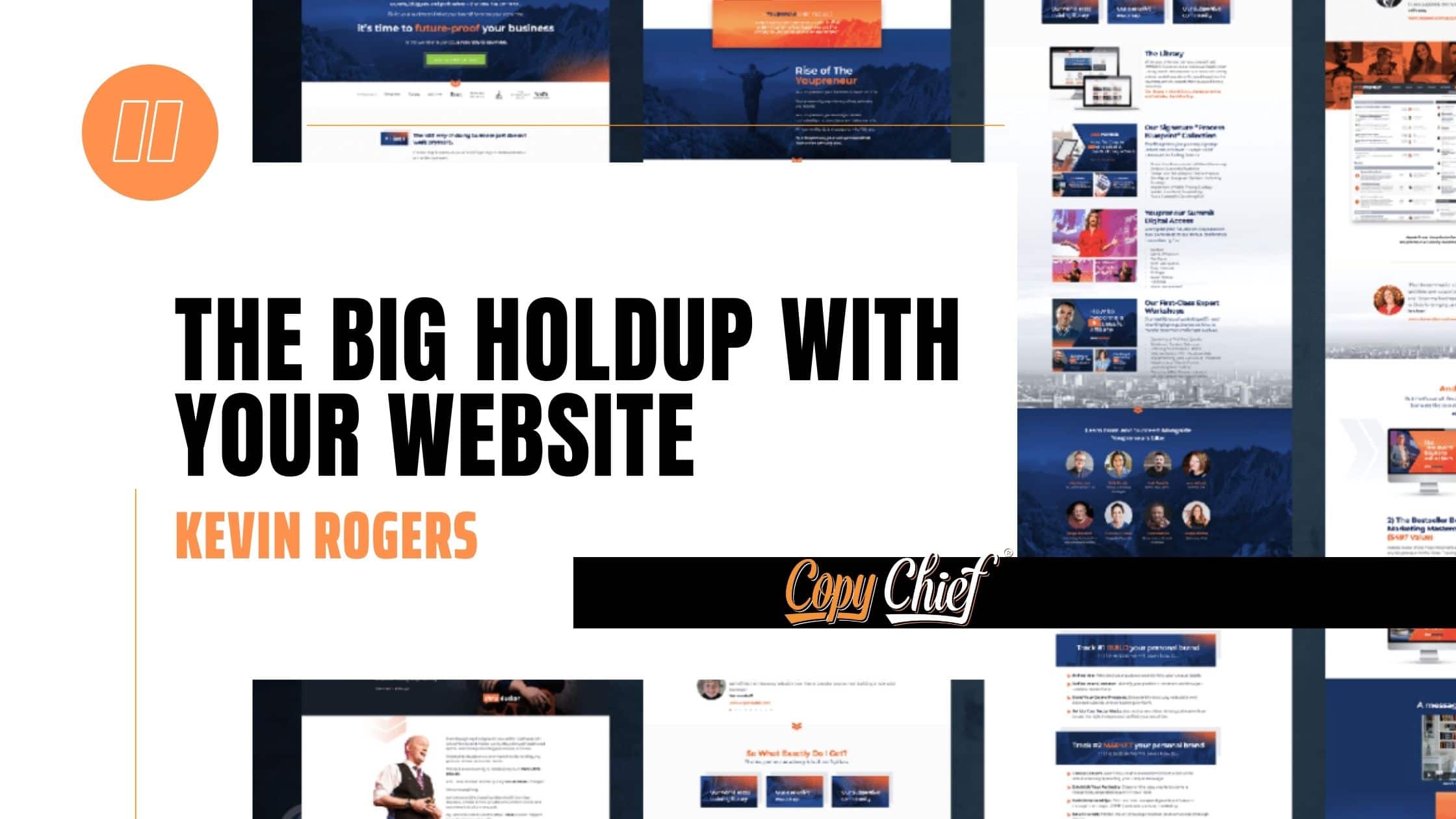 If your website is taking longer to build than the Taj Mahal, then you're doing it wrong. 
Or, your designer's doing it wrong.
All I can tell you is it's wrong.

I know this, cuz I've been there. 
WAAAY overthinking every detail… 
Like, which colors will position me as more of an expert? 
How to write about myself in third person without sounding like I wrote about myself in third person?
And the big one, staging a phony-ass self portrait that will make people think, "Wow, this guy looks really cool and fun… but serious when he needs to be. How could I not hire this guy!?"
It's torture. 
And, it turns out, it's 90% irrelevant to how your website does at converting visitors into customers. 
What REALLY matters in designing your website are 3 critical elements. 
My friend Greg Merrilees (the guru's designer) of famed Studio1Design, just gave a mind-blowing rundown of these 3 elements to share with the members of Copy Chief. 
The new masterclass called Design That Converts is live in the CC training suite now. 
My favorite part was Greg's 10-point Design Conversion checklist, because now, whenever I'm planning a new page or site, or consulting a client on it, I know exactly what matters – and what doesn't when it comes to conversion.
(Because conversion is the only true measure of a good website.)


It's like having an insider's cheat sheet that turns you into an instant design expert. Which makes you look like a genius to your peers and clients. 
And finally puts a rest to all that useless inner-haggling over pointless decisions like "glasses or no glasses?" for your own sites and pages. 
Even better, Greg very generously coached us through a fun challenge where we had to…

Identify the 10 Design Conversion elements on a website (yours, a clients, or a rando), 

Score them 1-10 using Greg's scale, and… 

Declare the one thing they would change on the site to make it convert better.

We love these challenges because we have a blast doing them, and when we actually USE the knowledge we just gained, it's forever at the ready as another tool in our belt. 
If you're not a member of Copy Chief, you're seriously missing out. 
You can stop missing out, join in the fun, and instantly increase the value of your expertise by joining us now at copychief.com/join 
Gaining daily access to experts like Greg (who is also an active member), David Deutsch (a recent guest trainer) and countless other top experts, plus over a 1,000 up and coming copywriters, marketers, and product owners is the single most impactful thing you can do to boost your career.
And no one makes it more affordable, more effective, or more fun than us. 
Click here to see your two pricing options and the awe-inspiring bundle of copywriting mind-shift you get when you sign up. 
If you've been tortured by the endless choices around what to put on your website – you can stop that now. Turns out there are only 3 elements that matter, and a checklist of 10 things that cause a website's design make or break the sale. 
You can get that list, and a full and fast expert education on what really matters in website design and sales pages by joining Copy Chief today right here.

I'll look for you inside.


---
The shiny, new Copy Chief member community and training dashboard is live! If you're already a member, dive in and enjoy. If you're not a member, you can join here.

Whenever you're ready, here are a few other ways I can help…
Become a member of Copy Chief. It's everything you need to sharpen your skills as a copywriter and build your freelance business – all with a killer support system at your back to help you do it. To learn more, check out this page here. 

Mark your spot on the Freelancer's Journey Timeline. Moving forward in your freelance business starts with identifying where you are right now.  Go here to see the full Freelancer's Journey Timeline and mark your spot. 

Find out what the best in the business do differently with the Copy Chief Radio podcast. Every week we release a fresh new conversation with the top producers and change-makers in the world of marketing, copywriting, and business. Tapping into their minds won't cost you a thang – listen here.