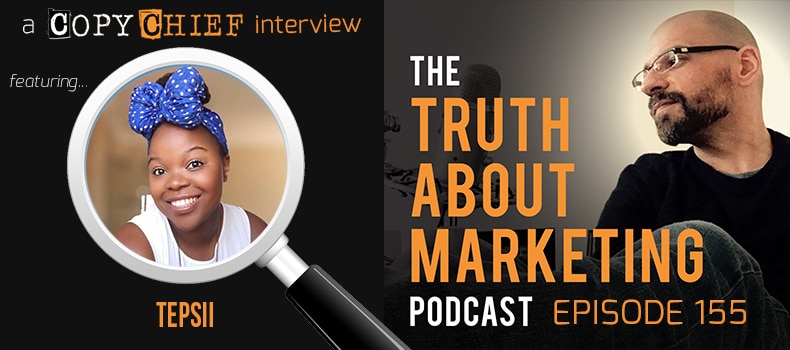 In This Episode
What do you think sets a pro copywriter apart from a good copywriter?
It's your ability to make your reader FEEL something using your words.
When you write copy, you want your ideal buyer to say, "Where do I buy this right now?"…
Or, "I feel like you were speaking directly to me."
That's why I'm proud to have my friend Tepsii on this new episode of Truth About Marketing.
I met Tepsii at a live event in New York. Her warm spirit and unique style caught my attention, but her willingness to teach got her invited on the podcast.
She specializes in helping business owners create dynamic customer avatars and write copy that focuses on the HEART.
So in this episode, she'll show you how to increase conversions by writing about what keeps your avatar up at night, instead of focusing on the demographic aspects of your avatar.
"Can't-Miss" Moments
When you should use demographic vs. psychological aspects of your customer when writing sales copy
How Tepsii kickstarted her copy career without having a huge network, or spending years in "student mode" (Plus, how sharing her personal story brought in 10 new clients to her business)
What every Business Owner must learn about copywriting, if you want to avoid hiring the wrong copywriter and start increasing conversions
Resources:
Visit Tepsii's site (Note: There is a malware warning – Tepsii is currently working on fixing this)
P.S. Be sure to download the free Copy Chief App (It's free for iOS and Android) where you can get access to all of the podcast episodes, articles and more cool content designed to help you boost your sales.
Disclaimer: Every effort has been made to accurately represent our product and it's potential. Any claims made of actual earnings or examples of actual results can be verified upon request. The testimonials and examples used are exceptional results, don't apply to the average purchaser and are not intended to represent or guarantee that anyone will achieve the same or similar results. Each individual's success depends on his or her background, dedication, desire and motivation. As with any business endeavor, there is an inherent risk of loss of capital and there is no guarantee that you will earn any money.