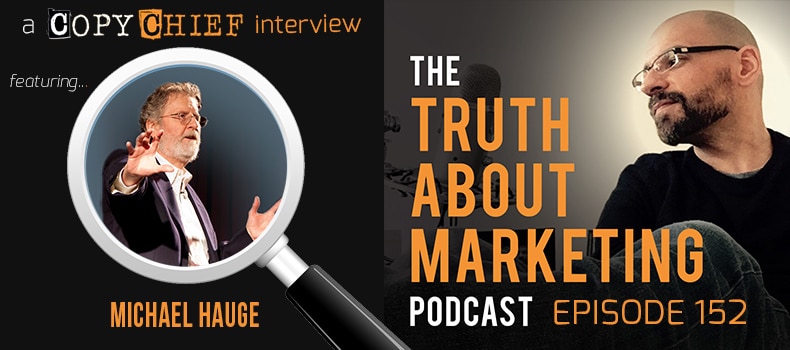 In This Episode
What makes the difference between an ordinary story and a powerful story?
(For starters, they don't make the 5 mistakes in this upcoming episode 🙂
The real answer is Emotion, and knowing which parts of the story to use for the biggest impact on the reader.
Remember, if your readers don't feel it, they're going to forget it and they're going to forget you. Without the experience of a story expert, it's hard to pick the parts to keep, get rid of, or rewrite for more emotional impact.
So I invited legendary Hollywood story consultant, Michael Hauge, to come for on a new interview.
You'll learn the 5 mistakes ordinary storytellers make, and how to avoid "skimming the surface" on a good story.
"Can't Miss" Moments:
Resources:
Get the 6 steps to better storytelling
Bullets written by Kenneth Turnbull. You can find Kenneth over at kennethturnbull.com.
P.S. Be sure to download the free Copy Chief App (It's free for iOS and Android) where you can get access to all of the podcast episodes, articles and more cool content designed to help you boost your sales.
Disclaimer: Every effort has been made to accurately represent our product and it's potential. Any claims made of actual earnings or examples of actual results can be verified upon request. The testimonials and examples used are exceptional results, don't apply to the average purchaser and are not intended to represent or guarantee that anyone will achieve the same or similar results. Each individual's success depends on his or her background, dedication, desire and motivation. As with any business endeavor, there is an inherent risk of loss of capital and there is no guarantee that you will earn any money.