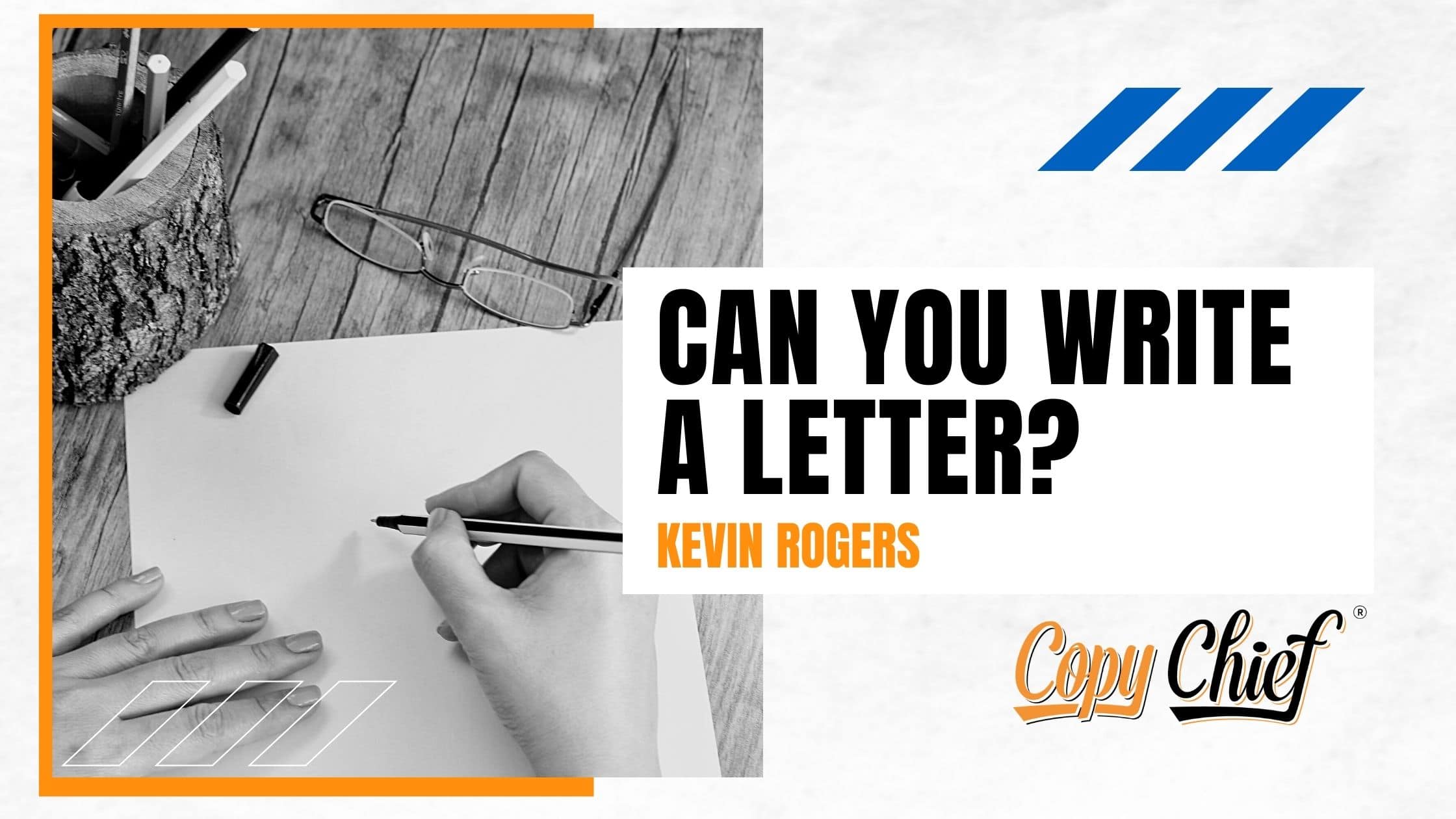 I'm still buzzing from our big virtual event last week (Copy Chief Live). 
I was blown away at how close it FELT to our in-person events.
Our community showed up in full, as usual, and brought the sessions and the conversations to the next level. 
Pondering all we covered in 3 days made me think back to the beginning of how this copywriting journey begins for all of us…
Some moment in our lives when WRITING got good to us. 
So simple, but so profound. 
_______________________


About 7 years ago, when I began coaching copywriters, I asked legendary copywriter and chief, Clayton Makepeace, what he looks for in a new copywriter.
I'll never forget his answer.
He said, "Three things. The first one is hunger…" and he told me about a guy he'd met recently who was very eager to make a change in his life. "You can just sense that this guy is ready to do what it takes for an opportunity." 
"The second is smarts," he said. "You have to be smart to be a good copywriter." He explained that doesn't necessarily mean having a sky-high IQ (wheww!), but that you are insatiably CURIOUS about things, and take a smart approach to learning new things and applying them.
"The third is, 'can you write a letter?'… you know, 'Dear Mom'.
That third one really struck me because it's so straight forward and obvious. 
If you think about it, no matter how fractured the idea of "writing copy" becomes, or how much the landscape of our craft expands… the ability to write a good letter is at the heart of it all. 
I mean, a personal letter – which is always how we want our copy to feel – can be written any way you want it.
The only actual rules to writing an effective personal letter is that you share an idea with clarity and express yourself with sincerity. 
And then the quality of the letter improves when a skilled writer ramps things up with…
Structure

Storytelling

Humor

Benefits

Demonstration

Proof

Dialogue

Passion

Call to action

And all the rest.



At its core though, a good letter is simply the ability to communicate ideas sincerely through the written word. 
What makes the rest happen is EMPATHY, and a deep understanding of your "avatar". 
So I believe if you have an instinct for empathy and are drawn to research to satisfy your curiosity, then you will find it natural to add the other elements that take a letter from good to great.
That's why I loved Clayton's simple criteria… 
Because, whether or not someone demonstrates those instincts in a letter… tells you almost everything you need to know about their chances of succeeding as a copywriter.
At the risk of being nostalgic here… I wonder how many people who want to be copywriters today have ever had the occasion to write an actual letter. 
The art of letter writing is a bit of a throwback in our constantly connected universe. 
You can't blame people who grew up with immediate direct access to every person they've ever known… for wondering why in the world someone would sit down and write out their thoughts to someone else… when they can just send them a Snap and say it right then. 
And if we're really going old school, write it on PAPER! 
And send it to them in the MAIL!


OMG, that is SO awkward. They'll think you're like STALKING them or something. 

(Can you tell I have teenagers at home?) 
But yeah, that's how we did it. 
My wife and I fell in love at first sight when we were nineteen.
But I was already working as a comedian and traveling almost non-stop, and she was heading off to school.
So, we kept it real and set off on our separate adventures promising to keep in touch.
Which we did, through letters. 
We just celebrated our 21st wedding anniversary and we both still have those letters – and always laugh and cry when we read them. 
My mom and I exchanged letters during my travels. She passed away 20 years ago at the age of 49. Those letters she wrote me are the purest personal, tactile connection I have to her. 
When I see her handwriting I can hear her voice again. Her phrasing and funny little asides are on perfect display. The crossing out of misspelled words. The tattered left side where she pulled it from a spiral notebook. 
That intimacy… that connection with another person, whether they're now physically gone from your life, or they're just recapping their year in the annual holiday letter… happens uniquely through the written word. 
Different from video chats, or a voice message where other syntax are firing… the written word puts your calculated choices on display.
If you visualize someone writing a letter, you see them completely present with the process. 
Writing in a fury when they're excited, stopping to ponder when they're transitioning… the artful character of words on the page often change in size and style to reflect the writer's emotion. 
The physicality of it is not unlike a conductor leading an orchestra. 
So, when Clayton names this as his third and final criteria for determining a new copywriter's instinct… we can also use that as a reminder of the fundamentals of great copy.
Write a sincere letter to someone you care about.
Remind an old friend of a funny moment together in an email.
Plead your case to a government agency for creating change.
Conduct your thoughts in the written word and observe closely how your reader is affected. 
If you fall in love with that, you're off to a great start. 
_______________________


P.S. Email writing is the closest form we have to writing letters today – and still the MOST effective form of conversion copywriting out there.
If you want to learn how to become a world class email copywriter in record time, then I have exciting news…
For the first time ever, we're opening the Email Copy Academy (ECA) home study course. This was previously only available as a live training, but now, due to the volume of requests we've received, we're giving you exclusive access to the on-demand training. 
Expert email copywriter, Chris Orzechowski, will walk you through his exact system for writing high converting emails and campaigns. Plus, he'll show you his freelancing system for finding, attracting, and closing "whale" clients who pay good money for your email writing skills each month.
Best of all, during our Black Friday sale (Nov 23 – Dec 1) this course will be almost half of the normal price. 
Join the waitlist to lock in your spot (and save $200) before December 1st at CopyChief.com/eca
---
P.P.S. Ready for more? Here are 3 ways we can go deeper…
 
Tap into the #1 copywriting community and jobs board.
Copy Chief has everything you need to sharpen your chops as a copywriter and build your freelance business – including the #1 jobs board in the industry.




Learn how to level-up your freelance business quickly.


Simply reply to this email to ask our Freelance Coaches any question you'd like about launching or growing your business. (These are real coaches, not sales people in disguise.)





You can also

click here to learn which of the 7 "Freelancing Phases" your business is in now.

You'll get the clarity you need to avoid getting distracted, so you can stop "winging it" and focus on the crucial "right now" problems to move your business forward.




Listen to the Copy Chief Radio podcast.

Every week we release a fresh new conversation with the top producers and change-makers in the world of marketing, copywriting, and business.