If you want to work as a copywriter in the fashion industry, you have your work cut out.
I got my foot in the industry at a Parisian contemporary fashion house (I'm actually Australian) as their online editor — at a time when blogs were a new and exciting thing.
Blogs were the buzz word at the time, and when they realised it didn't affect their sales, they questioned their value.
I ducked out of that world and became a freelance music writer for the likes of VICE magazine. It was fun interviewing Moby and John C. Reilly, but it turns out people don't want to pay you much for that kind of writing.
While working another job parallel as a retail assistant at a local fashion boutique, the glamour of the 'writing life' wore thin.
So I took a job as an editor/copywriter in New York at a startup that sold limited edition items and contemporary fashion.
It's where I learned a lot of my lessons of what works and what doesn't.
In hindsight, I came into the position as a 'freelance writer' and left as a 'copywriter'.
Those distinctions are still slippery in my mind, but working in a growth-driven (high-stress) startup environment tends to change the way you write.
Making a profit literally meant either keeping the company afloat or closing up shop.
It became clear that my job and those of other employees rested in my hands.
That's a big responsibility to take on, especially when clicking send on a newsletter that everyone is counting on to make sales.
My bosses didn't have the answer. They relied on me to come up with something.
The Industry
Let's talk about the industry itself and what makes it unique.
Fashion relies heavily on visuals, and so the copywriters job is never valued as highly as the image-maker.
In my job I happened to do both, so I learnt the importance of both image and text being in sync.
For example, you're not going to sell a leather bag without an appealing image, but newsletter statistics proved that the choice of words had a clear impact on the click rate.
I learnt a lot.
For starters, that short copy is strongly favored in the industry, because people are supposedly time poor and don't read anymore.
I don't have the answer to that one.
To me it seems like a sweeping statement.
I kept text as long as it needed to be, and since all of our products had an interesting story, it made sense to tell that story in a succinct form.
Here is a typical newsletter from a fashion brand: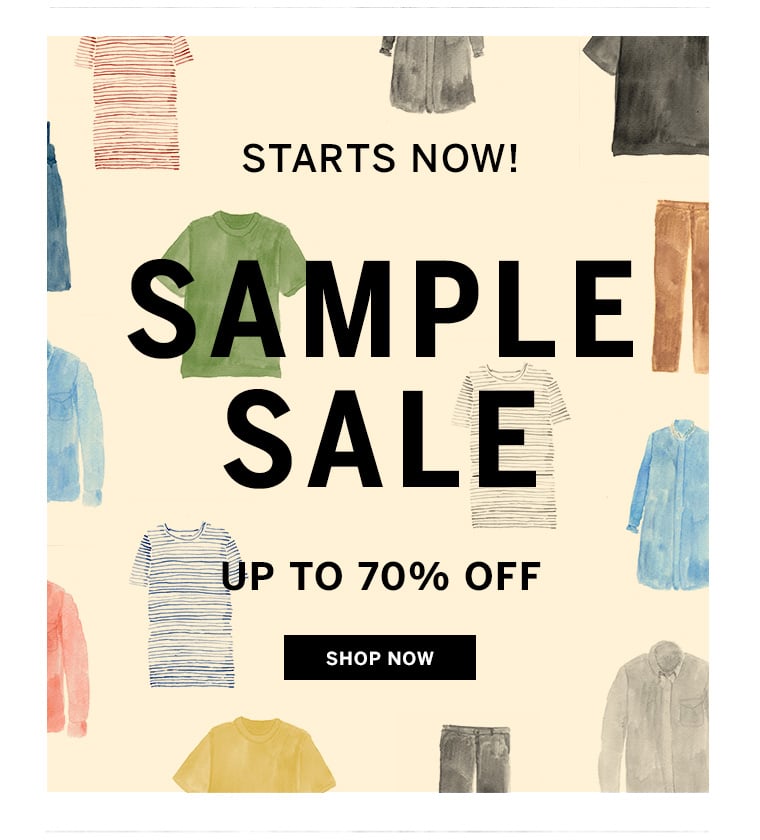 The copy is there. There's just not much of it.
Below are some of the mindsets and tricks I adopted in my writing:
#1 – Fashion Customers Are People Too
Appeal to their base desires.
Like being desired by others…being surprised and excited…being free…and feeling that they matter.
Consider why people really buy clothes and other luxury items.
Give them rational reasons (that they can tell their friends and spouse), while tapping into their deep emotional desires (that they're really buying that leather jacket to feel young and edgy again.)
#2 – People Are Always Price Conscious
Make the value equation clear in their minds.
Explain why that jacket is worth $2000.
But don't linger on the price.
Stress high quality materials, unique construction, craftsmanship, exclusivity, and don't forget that…
#3 – Scarcity Works
This comes as no surprise, but it's worth remembering.
Saying you have less than five of a particular item left is a compelling reason to buy.
So are the words 'Limited Edition.'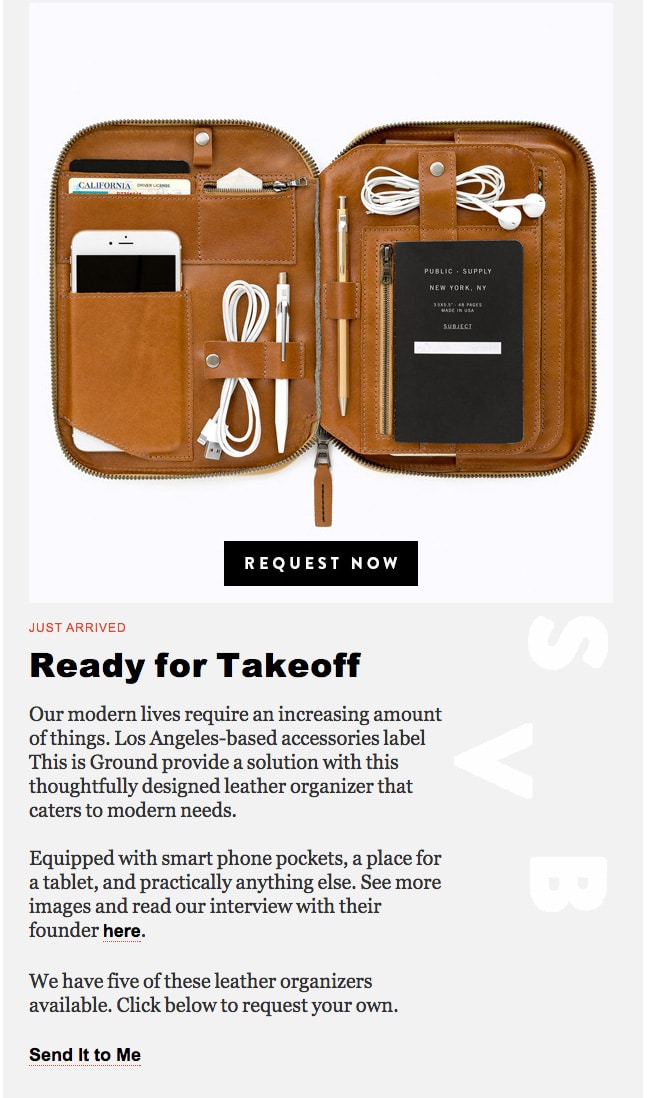 This newsletter snippet used scarcity to push the sale.
Get them to reach into their pockets. But also…
#4 – People Aren't Stupid
Hold your customers in high esteem.
It's tempting to think that "they'll pay for anything", especially if they've purchased previously, and often.
Sales suffer when you get lazy.
Don't try to take them straight to bed. Court them first.
#5 – People Are Option-Savvy
With so many retailers carrying similar stock it's highly unlikely that you have an exclusive product to sell.
Build trust with your customers to keep them buying from you.
Provide the best post-sale support they've ever experienced, offer easy returns and so on.
#6 – Show The Romance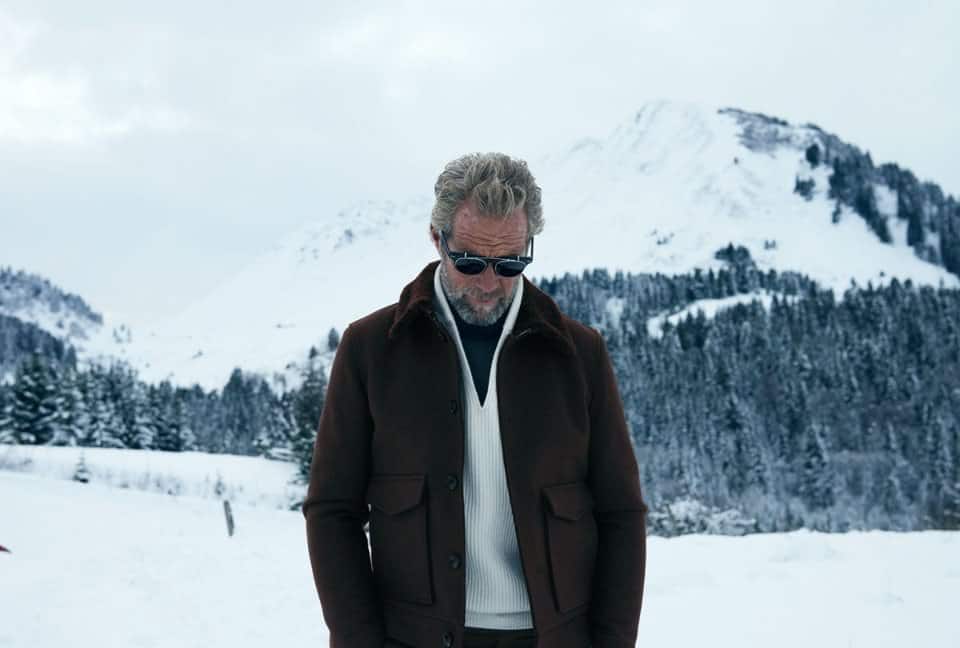 That jacket is looking a lot more adventurous all of a sudden.
Use (or even better, create) pleasing imagery that acts as a shortcut to tapping your customers desire.
Lifestyle shots that capture the product in an idealized but natural manner work best.
Avoid bleak product shots on a white background. You're selling them on the dream, not trying to bore their eyeballs.
Think of a luxury watch tossed across a dark walnut table surrounded by a quill, a letter and some ink…
Or a man stepping onto his 40-foot sailing ship somewhere in Greece in full sunlight…while wearing his new swim trunks.
This kind of imagery is dense with meaning, and can do much of the work your copy would do otherwise.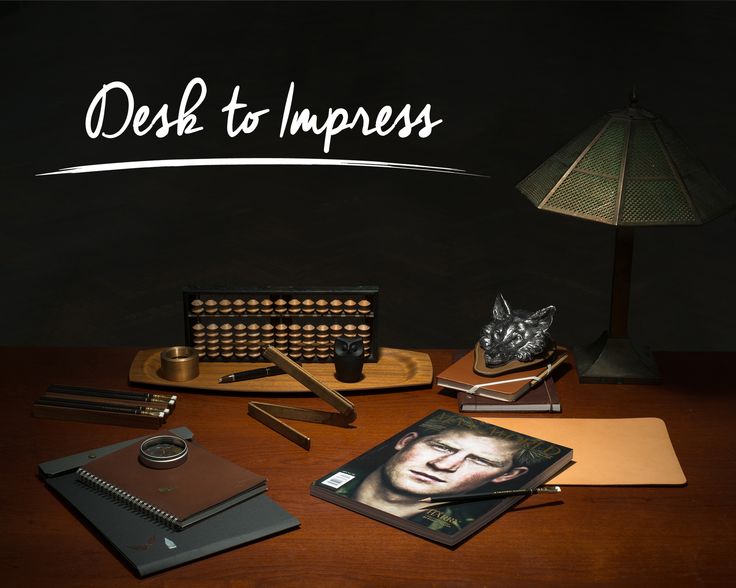 A moody shot of desk accessories from Man of the World.
#7 – Build One-On-One Salesmanship Into The Mix
Ask customers to reply to a promotion, or to join a "waiting list" for a special product.
This trick can increase response rates, as expressing interest is a lower barrier than purchasing.
Make sure the person answering customer responses is trained in the art of salesmanship. They have the difficult task of making the sale.
#8 – Anticipate Questions In The Prospect's Mind
"Does the leather bag have a spot for my iPad?", and so on.
Make a list of the questions you would ask of the product yourself. Then go about answering them in the copy. But don't forget to…
#9 Be Concise And Learn The Lingo
Knowing the difference between a French Terry sweatshirt and a Piqué polo is important.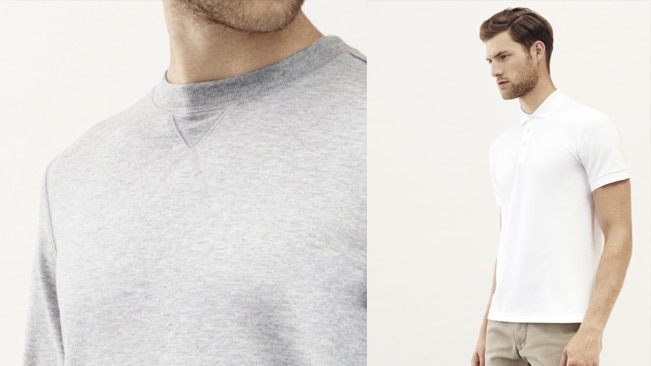 Handvaerk sweatshirt and polo shirt.
Not to show off, but to hold authority in your voice and convey information concisely.
It'll show in the overall feel of your copy.
Final Note
The online fashion landscape is constantly changing.
Fashion brands change their websites on a yearly basis.
Currently the trend is to show product front and center, get people to the product page, and whisk them straight through to checkout.
Like the home page for Swedish fashion brand Acne Studios: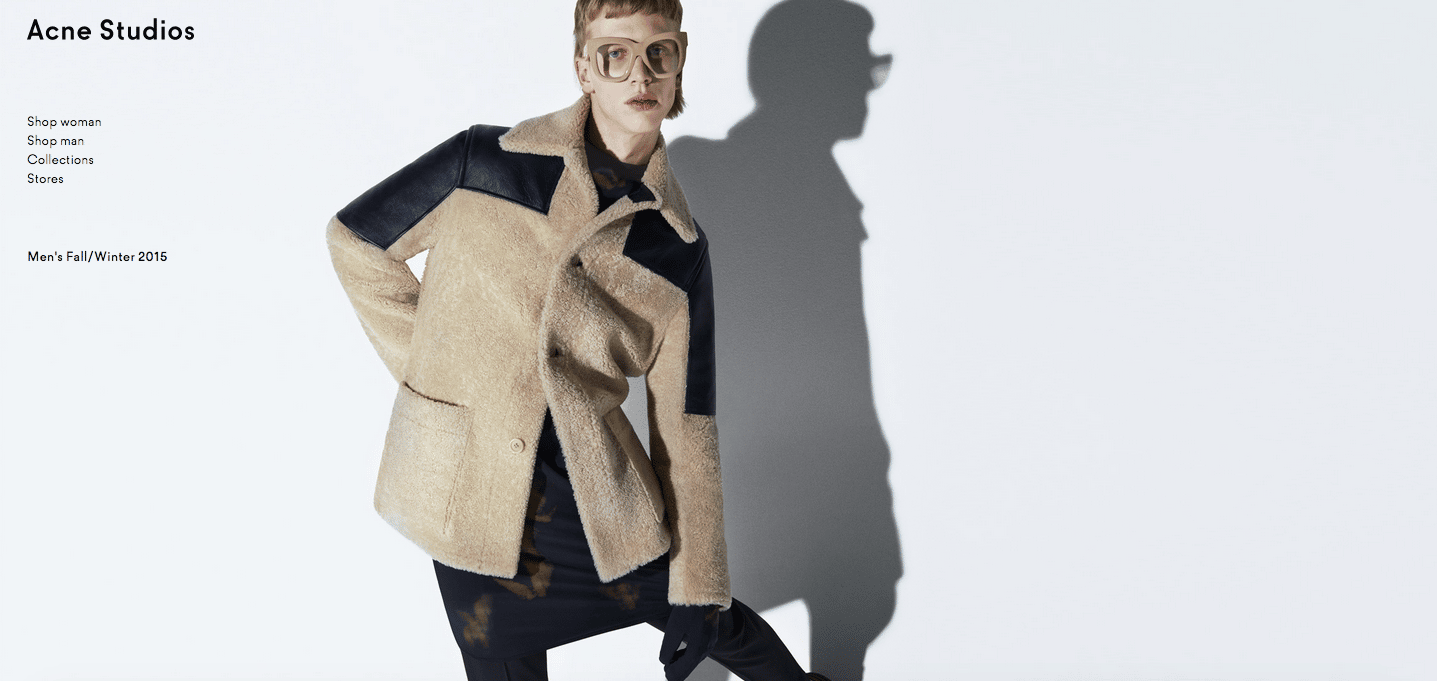 To me, this feels too direct.
But is no doubt the result of testing.
Taking away barriers to buying most likely increases sales.
To me it feels a bit like being placed directly in front of racks in a retail store.
One foot from the cash register.
While the staff ignore you.
So, where's the salesmanship?
Where's the relaxed buying environment that Joe Sugarman talks about?
The private space at the back, with the couches and prosecco. Where clothes are brought to you by smiling, well-dressed staff.
And is it necessary?