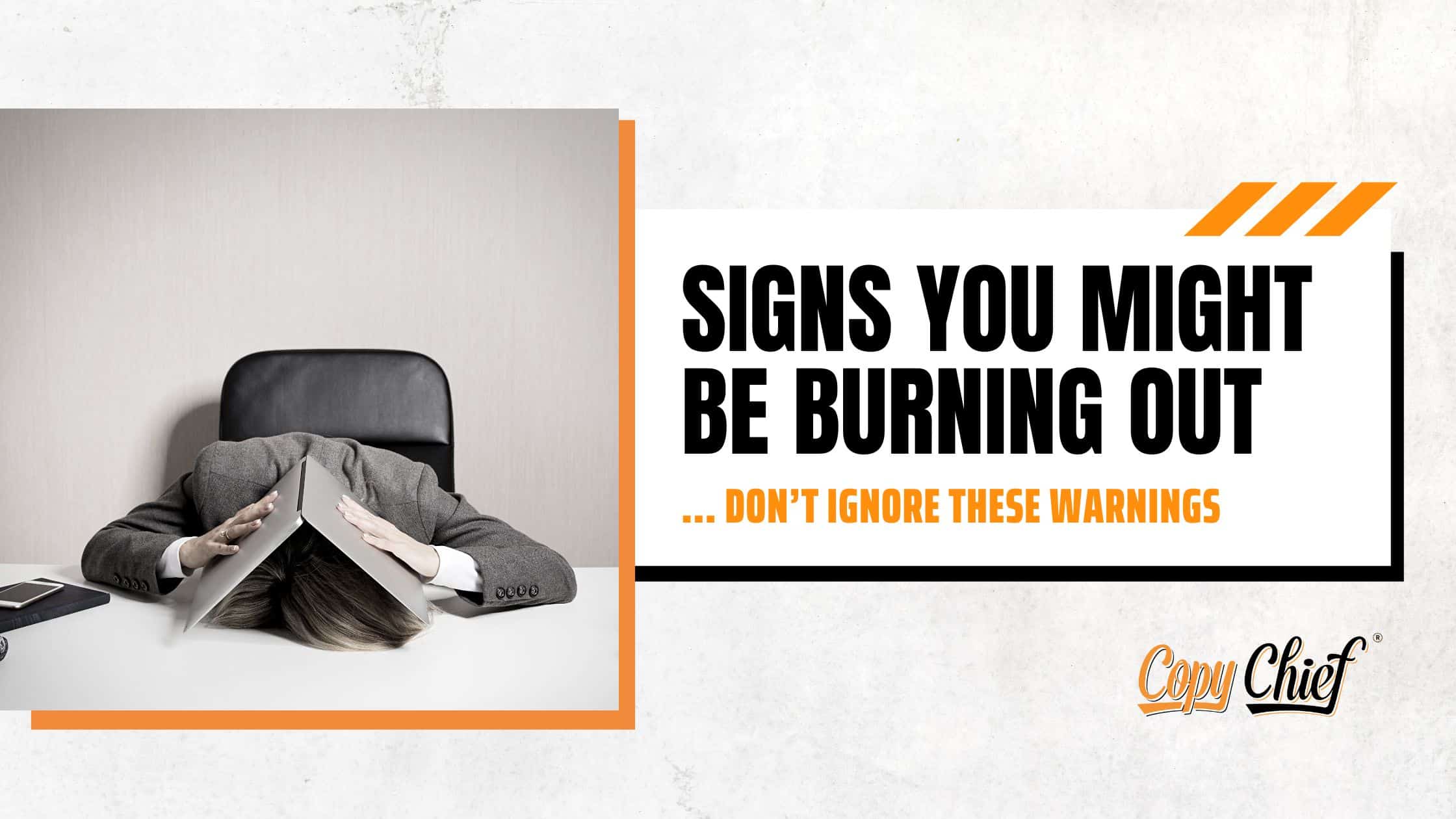 If you've been at this freelance copywriting thing for a year or so, you're likely facing burnout. 
What does burnout look like? 
It's a bit different for everybody because we're all wired a bit differently. 
The SIGNS OF BURNOUT are pretty much the same for everyone though…
If you consistently ask yourself, "when's the last time I showered?", you might be burning out.
If you let out a long, guttural SIGH when opening your laptop, you might be burning out.
If you reply to the question "what're we doing for dinner?" with "I don't know, f*cking EATING?!" you might be burning out. 
And…
If you open an email from clients squinting fearfully through one eye, you're definitely burning out. 
It's fun to laugh about, but burnout is a nasty condition. 
We accept it as "part of the gig," but it shouldn't be.
It's a sure sign that you're doing the wrong things in your business… 
Saying "yes" to projects that stress you out, because the client is a "really nice person". 

Passing on bigger opportunities because you're afraid you're "not ready."

Trying to do everything yourself because you're "the only one that knows it."
This is the perfect spot to tell you it's not your fault… but honestly, blame is irrelevant. 
All that matters is for you to BELIEVE you can change it. 
Because the reality is… only YOU CAN change it. 
No happy coincidence is going to do it for you. 
I've personally coached many, many freelancers through this phase of burnout. 
The fix is quite simple, and the results can be immediate. 
All you need to do is make a few choices about what you want on your calendar… then follow a plan to eliminate the things causing your stress, and amplify the things that bring you joy. 
Problem is, CHOOSING is the hardest part. 
See, The #1 reason we freelancers burn out is because we work in our heads all day. 
We suffer DECISION FATIGUE because people pay us to make good choices…
About the direction of a campaign…

About how quickly we can have something done…

About how to fix things that aren't working…
It's no wonder "working on our own stuff" is the last thing we feel like doing at the end of the day. 
The only decision we want to make at that point is, "wine or margaritas?"   
I know, 'cuz I lived it.
Because of that, I can confidently say that no other "guru" in this space can help you do this as well as I can.
And no one else comes close to the amount of lives changed through their coaching. 
I've helped guide many (now famous) copywriters, like Taylor Welch, Chris Orzechoski, Marcella Allison, Ian Stanley, Abbey Woodcock, Mike Rinard, Brenna McGowan, Rachel Mazza, Russ Reynolds, Ross O'Lochlainn and a whole bunch more take their freelancing…
From crushing burnout, to thriving businesses that they wake up excited to work in every day.
Coaching freelance copywriters is what I do every day. 
I chose it because I love it, and I'm friggin' good at it. Nothing thrills me more than helping creative freelancers get their lives back and start loving their work again.
It's the difference between running a thriving business, with all the rewards your hard work deserves…Or, burning all the way out, and… who knows what? 
That's why I'm inviting a small group of freelance copywriters to work with me directly, starting on August 1st. 
Where I will personally coach you through the process I've used to create (and implement) these life-changing shifts with freelancers. 
Together, we will… 
Eliminate

your burnout, 

Beat

your best previous month of revenue (and continue raising it), and

Create

the new standard for how clients see you and work with you 
That's my guarantee. 
Because of that, this program is not for everybody. 
You have to be ready to change the way you're doing some things, and you have to be qualified. 
To be clear: If you're brand new to freelance copywriting and have not worked with a client yet, this coaching is NOT for you (instead, ask me about a different one).
However, if you've been working with copywriting clients for six months to more than a year and can relate to anything I talked about in this email, then you're invited to apply now.
Apply to work with me directly
I'll personally review every application, and if it looks like a good fit we'll hop on a quick call together and have a chat. 
I only have space for 12, and we will begin on August 1st. So go fill out the application now so we can book our call together. 
This is the turning point.