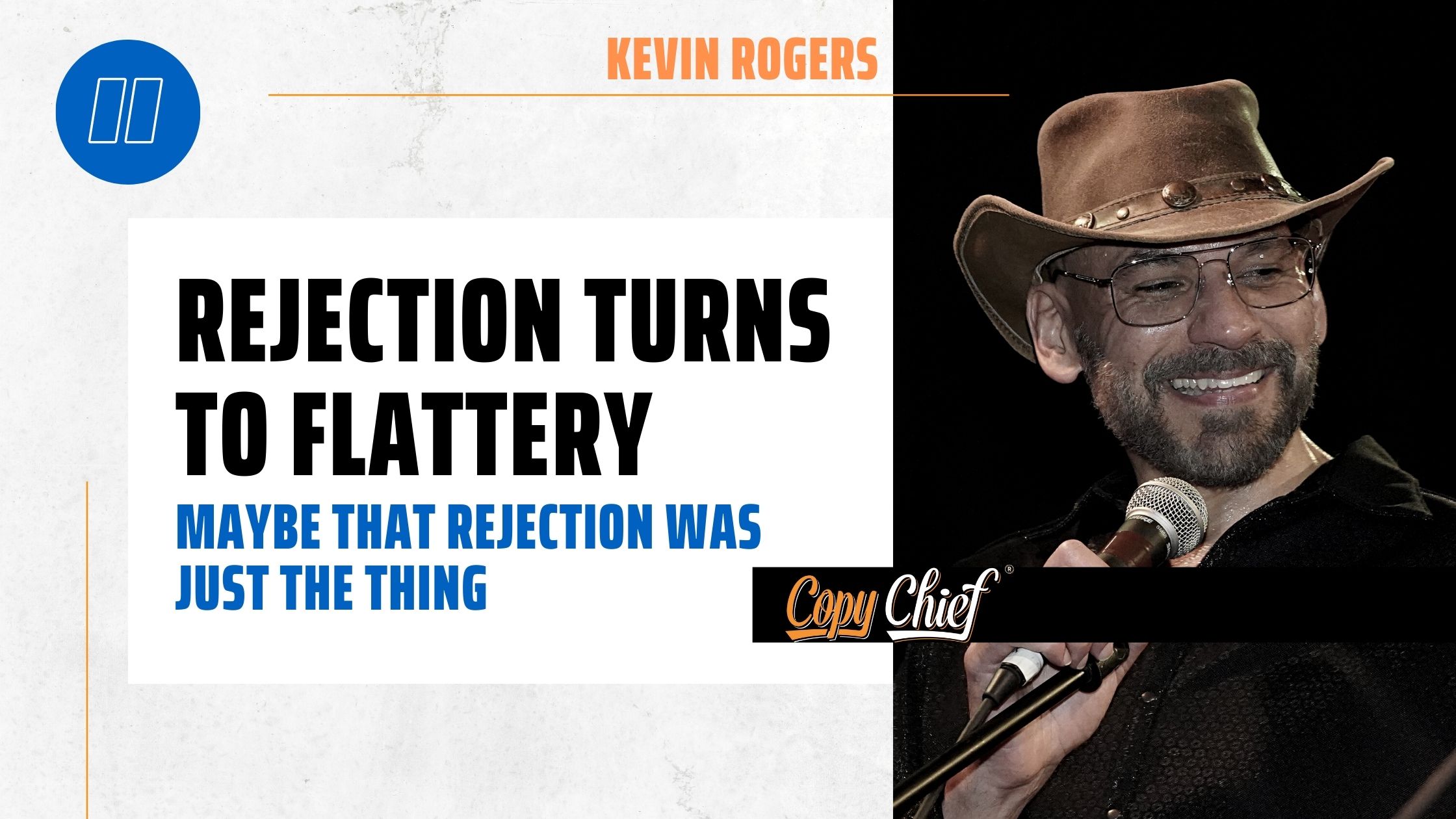 Rejection sucks.
But if you think about it, how many times has it turned out to be a gift in disguise? 
One of the funkier jobs I held between comedy and copywriting was working the overnight shift at a haunted beach hotel. 
It's called the Don CeSar. 
If you've ever been to St. Pete Beach, you know the place. You can see it from everywhere. Like a glowing pink Spanish castle washed up on the Gulf shore. 
Some parts of the job I loved…
I loved meeting the guests. 
Pushing a luggage cart allows for colorful elevator chats with rockstars, business barons, famous athletes, and families from all over the world.
I loved the infrastructure.
A big hotel is like an entire city condensed into 50,000 square feet. You get to know the engineers, the cops, the mayor, and the dishwashers under the same piercing fluorescent lights of break rooms and back halls. 
I loved the ever-changing roster of activities.
The nervous buzz of excitement and eventual drunken debauchery around weddings, conferences, and weekend "staycations" meant things were never dull. Especially on the "graveyard" shift. 
The shit parts?
Running a quarter mile in a thunderstorm to retrieve some asshat's BMW for no tip and public scolding for getting his seats wet. 
Delivering newspapers to the doorstep of every guest room at 4:00 am. 
All three hundred guests could choose up to five different papers. So, instead of just walkin' and droppin' one paper, you had to sort through the request list like a nocturnal mail carrier. 
Only one guest consistently requested all five newspapers whenever he stayed. And I have no doubt he read them all. (It was Elie Weisel.)


The worst part of the job… and the one I'm now most thankful for… was the office politics that kept me locked into that overnight shift. 
The day and evening crew guys were a super tight clique and each had years on the job when I got there. So, I was stuck on overnights until someone left, which wasn't happening at a cozy 4-star hotel like this.
I spent an entire year mired in the eerie graveyard shift with the grey skinned workers who actually preferred the solitude and minimized social contact of working in the wee hours.
"Takes a minute to get used to, but then you grow to love it," they'd say. 
But I never did. 
I was on separate schedules from everyone else in my life, and I just could not sleep during daylight. No matter how many Zzzzzs they added to the Nyquil. 
Finally, the opportunity came. One of the day crew guys was moving up to the hospitality big leagues of Las Vegas.
No way they could deny me now. My patience had paid off, and now I was about to get paid at least twice the amount in tips on those busy day shifts, plus get my "normal" life back.
Until, I didn't. 
They passed me over for some dude who used to work there – another crony from the day crew's own little "bad boy club".
I felt that unique sting of rejection that mixes jealousy with embarrassment, with anger, with injustice, and leads to hearing yourself saying: "OK, well fuck you Scott, and fuck this job!" as you storm out the opulent front doors.
Feels SO GOOD at that moment.
You've reached your breaking point, for all the right reasons, and the future is a blank canvas once again. 
I look back now and realize that if I'd have won the day shift gig, I probably never would have discovered copywriting.
I would have stayed stuck in that "lucky to have it" hospitality job, telling myself to be grateful for the decent wage, plus benefits, plus healthy daily takes of under-reported cash tips. 
I would not have landed at my friend's marketing company, and met the strange "direct response junkie" consultant who said to me, "you're a pretty good writer, you should learn to write sales copy."
Wild to think about. 
Even wilder is that whenever I go to the Don CeSar now as a guest, those SAME DUDES are still working there. Including Scott, the man in charge.  
Same cocky swagger, but with grey hair now, and slight limps from years of running for cars and slinging heavy luggage. 
I don't think they recognize me all these years later, bald headed and handing over the keys to a pricey ride. 
If any of them do, they don't mention it, and neither do I. 
But if I ever do, I'll thank them for rejecting me.
Their instincts were correct that day. I didn't belong on the permanent roster of the bellman's bad boy club, and shunning me was one of the greatest favors of my life. 
I think of every stinging rejection we suffer in life like a "power pellet" in video games, making your character stronger and granting you new abilities. 
So, embrace your rejections – both past and future. 
They're proof that you're moving through life with purpose. And even though they feel like hell in the moment, trust that you'll look back and see them as gifts.

Just as soon as you arrive at the 'something better' you knew was out there for you. 
Rooting for you always.
P.S. If your 'something better' involves freelancing, then I'd love to hang out with you for three days in November. I'm running a bootcamp to help creative freelancers have a bigger, better business in 2022. Check it out here and if you have any questions, hit reply and fire away. 
---
P.P.S. Ready for more? Here are 3 ways we can go deeper…
 
Tap into the #1 copywriting community and jobs board.
Copy Chief has everything you need to sharpen your chops as a copywriter and build your freelance business – including the #1 jobs board in the industry.




Learn how to level-up your freelance business quickly.


Simply reply to this email to ask our Freelance Coaches any question you'd like about launching or growing your business. (These are real coaches, not sales people in disguise.)





You can also

click here to learn which of the 7 "Freelancing Phases" your business is in now.

You'll get the clarity you need to avoid getting distracted, so you can stop "winging it" and focus on the crucial "right now" problems to move your business forward.




Listen to the Copy Chief Radio podcast.

Every week we release a fresh new conversation with the top producers and change-makers in the world of marketing, copywriting, and business.