This is a guest post from Scott McKinstry. Scott is a brilliant copywriter and really knows how to compel with story. Enjoy…
Hey, Kev, thanks for having me. It's an honor to share the mic with you on Copy Chief to riff on the power of stories.
Welcome, everyone. Thanks for pulling up a chair. Let me tell you the story of how I almost screwed up my chance of working with Kevin Rogers.
The STORY
A little while back, I was trying to crack into the copywriting big leagues. My daughter was just turning 1, and I was determined to find a way to watch her grow up — instead of being stuck in Seattle traffic, commuting to a dreary corporate office every day.
I had stumbled sideways into copywriting when I discovered I could dig up my past talents as an actor, speaker, and writer … toss in my fascination with psychology and my passion for entrepreneurship … sprinkle in my rhetorical skills as an English tutor … to whip up a message that could actually make money.
And I'd quickly discovered Kevin's name as I researched the elite copywriters of our day. (In fact, I wrote his name on a piece of paper titled "Study w/a Master" and stuck it on my wall. It's still there to this day.)
So when I saw a listing on Kevin's Facebook fan page for a chance to work with him on a project, I scribbled off a reply in an instant. I didn't actually expect a response – he must get flooded with requests.
But early the next morning, a brief message waited for me, still smoking a little, hot off the digital presses.
My heart skipped a beat. This is what I've been waiting for. Don't screw this up. I was determined to work with him.
Kevin asked me one simple question: what do you know about raising kids? (It related to the gig.)
I almost made a big rookie mistake … a common knee-jerk reaction when we want to persuade someone.
Like when we want:
The mistake?
I was tempted to explain.
Yeah, the philosophy grad in me just loves to blather on and on about ideas, causes, and reasons.
(Might have something to do with the hours-long discussions about society, religion, and psychology I had with my dad and brothers growing up.)
And hey, ideas are important, don't get me wrong.
But when you're making a first impression – when you're trying to connect with someone – spewing out a flood of facts is the last way to ignite a fire of interest in you.
Instead, all those explanations will be slide away like water off a duck's back.
But I wasn't tuned in to that yet.
See, I wanted to impress Kevin. I was dying to catalog my understanding of the parenting market … dazzle Kevin with my insights of first-time parent psychology … supply him with a bullet list of the top pain points to tap …
… but thankfully I didn't. (Can't take full credit for this … Kevin phrased his question deftly, inviting me to share my personal experience.)
So instead, I told him the story of raising my daughter, peppering it with relevant details. It was easy to speak from the heart, because being a dad was most of my world.
(In fact, I even used a primitive form of the 60 Second Sales Hook … pointing out some of the parenting challenges I'd faced (PROBLEM) and some of the things I'd learned (DISCOVERY).)
What was Kevin's response?
See for yourself: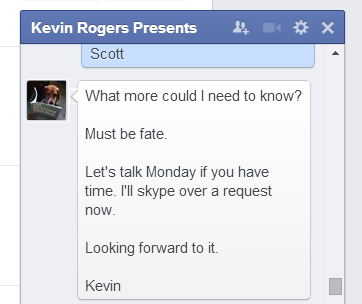 We had that Skype call … and I've been plugged into Kevin's world ever since.
Kevin's contacts – and more importantly, his savvy advice and deep awareness of the business of selling and writing – have supercharged the trajectory of my career.
(In fact, just studying the off-hand, everyday emails he sends me is a master's class in cutting to the heart of a matter in plain, compelling language.)
And by the way, Kev's insights also made it a cinch to knock out this first post (without getting drenched by flop sweat.)
How?
Just follow the 60 Second Sales Hook recipe, me lad:
IDENTITY: Scott, father, freelancer.
PROBLEM: No clue how to enter the jetstream of the direct response industry.
DISCOVERY: Power of stories got me on Kev's radar.
RESULT: Liftoff!
Ding! Instant story, fresh from the marketing oven.
The MORAL
Telling a story makes an unforgettable first impression. What kind? Bad, good, or just strange … well, that depends on your tale.
Stay Tuned For Next Week …
In which I encourage you to lie for a living
About the author:
Scott scribbled out his first sales copy when he was 12 —  in a "user agreement" that coaxed his parents to admit a Sega Genesis into the house. (Granting him years of Sonic the Hedgehog bliss.)
Now he writes sales copy for entrepreneurs big and small who need to supercharge their sales through targeted messaging. He blogs about his expertise writing advertorials here (link: advertorialcopy.wordpress.com) and can be reached at [email protected]