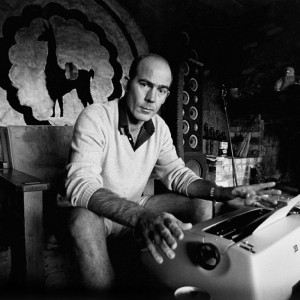 Now when it came to 'morning' writing rituals, no-one could touch Hunter S. Thompson.
According to his biographer, his day started at 3pm with a glass of Chivas Regal and a packet of Dunhills with his papers. Minutes later, it rapidly descended into an evening-long smorgasbord of vice.
Cocaine was then taken every half hour, washed down with more whisky and the token orange juice before dinner which started with weed, tacos and margaritas. Thompson collapsed into more cocaine and acid before STARTING his writing at midnight.
During his six hours "productive" time he consumed more cocaine in addition to Chartreuse, beer, gin, grass with porn movies in repeat in the background before retiring to drink Champagne and eat pasta in a hot tub before bed.
Now that is what I call a routine.
(And I feel radical mixing butter in my coffee…)
Of course, now it's hard to imagine Hunter S. Thompson as a run-of-the-mill conventional writer before transmogrifying into the Gonzo-writing, narcotics explosion he eventually became famed for.
He didn't emerge from the womb with a cigarette filter and bucket hat ready to tear into the political and cultural landscape of 70s America… He got good through his own hard work.
Thompson knew the 'secret' of getting good quickly. And like most game-changers in their field knew you had to master the basics well before riffin' off on your own.
He knew the fastest way to get good: find someone who is already good and learn from them. And if they're dead, copy them.
Now, we're not talking about straight-out plagiarism. We're talking copying the rhythm and flow of their writing by copying what they've written.
Breaking down the structure. Analysing the rhythm. Becoming familiar with the ebb and flow of the copy as it breaks upon the consciousness of the reader.
Hunter S Thompson did exactly this. In his quest to feel how to write like a great writer, he re-typed the entire novels of Ernest Hemingway's Farewell To Arms and F. Scott Fitzgerald's The Great Gatsby.
When you want to get a 'feel' for a writing style – whether it's direct response or otherwise – there's no better exercise that copying from the greats. But when it comes to winning copy, who you choose to scribe from is just as important.
Should you dedicate time to Bencivenga and Halbert?
Or focus on the new wave of copy pros like Frank Kern and Ryan Deiss?
Should you stick to copy from your niche?
Or spread your wings and study copy in other sectors?
These are exactly the questions posed (and answered) over in Copy Chief right now on a thread killing it on the benefits of hand copying.
The thread is chock full of a veritable gold mine of million dollar swipes of copywriters from Dan Kennedy to Joe Karbo…
…. but this definitely isn't the "Lazy Man's" approach.
Yes, it's hard.
Yes, it takes commitment.
But making hand copying a habit is one of the shortcuts to ace writing. Just feeling the movement of the words as you put them on the page will transform your marketing copy.
Take your copywriting to the next level by joining Copy Chief today.
Then tell me, who do you consider to be worthy of hand copying? Who have your copied in the past with results?
See you inside,
Kevin
P.S. Existing members head on over right now and feast on the copywriter's own version of Schedule 1 relief. (It's what Hunter would have wanted…)