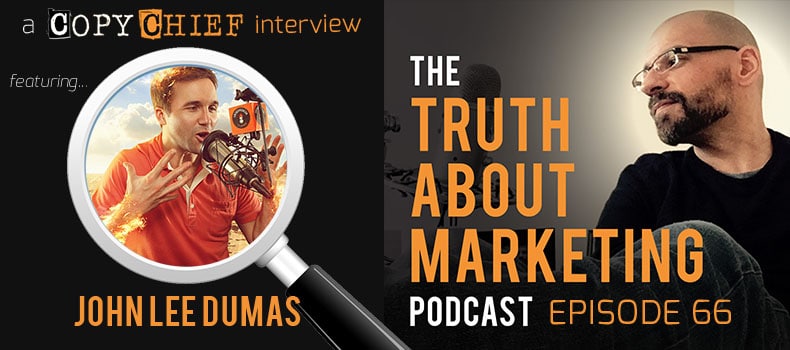 In This Episode
1:50 – John's brutally honest about why you should NEVER start a podcast if you want to "sprint to success".
4:40 – 93% of podcasts fail within their first month! (Why this is great news for you if you play your cards right.)
7:20 – The critical skill you need to succeed at everything you do (this was critical to John's success, and shared by every single person among the 1,300 he's interviewed).
9:30 – Nearly half a million dollars in 33 days! How John launched the 6th most popular KickStarter campaign in history and why he chose to do it with a blank book.
11:00 – John shares his "Holy Crap!" moment (and the surprise email asking him a favor … from a celebrity you'd kill to meet).
13:40 – John's personal decision to NEVER prepare for his podcasts, and why he believes knowledge is a curse.
15:00 – John confesses his secret superpower … and how it keeps him fired up while spitting out 30 interviews in just 48 hours.
18:50 – "I'll make you pee your pants, but just a little." How Snapchat kicks in the front door to your audience's living room and ensures you always know exactly what to give them next.
20:30 – "Isn't it boring to ask the same questions?" Never say this unless you want John to mock you to your face. (Plus: the secret to his podcast's 1 million downloads every single month.)
23:20 – The #1 marketing ingredient that's gotten John the most surprising results (and why most marketers will hate it).
Bullets written by Carolynn Ananian. You can reach her at cananian.com.
Resources Mentioned
[podcast_optin]
Disclaimer: Every effort has been made to accurately represent our product and it's potential. Any claims made of actual earnings or examples of actual results can be verified upon request. The testimonials and examples used are exceptional results, don't apply to the average purchaser and are not intended to represent or guarantee that anyone will achieve the same or similar results. Each individual's success depends on his or her background, dedication, desire and motivation. As with any business endeavor, there is an inherent risk of loss of capital and there is no guarantee that you will earn any money.