The Comeback
This is the raw, behind the scenes look at my return to the comedy stage after a decade away. The video below explains how it all started. Scroll down to read the road back journal.
>===================================
Billy Gardell with special guest, Kevin Rogers
Friday, January 13th, 2017
Mahaffey Theater – St. Petersburg, FL 
===================================
(Journal updates most recent at the top)
===================================
February 13th (one month since the show)
What a night and what a show! Amazingly Chris was able to get pretty good quality on the recording. We still have a lot of post production to do, but here's a preview… Hope you enjoy it…
===================================
Stalking the stage
January 12, 2017
On Tuesday we were able to get into the Mahaffey while it was empty, feel the room and shoot some final update videos.
Having an hour to walk the room and "leave my scent" by walking to all corners and feeling the performance (presenters trick I learned from Bo Eason) was a huge confidence boost.
I knew the act was ready, now it was just about not becoming swallowed up by the moment, or getting thrown by any distractions.
I've got the lay of the land it time to stab the gas and rock.
Visualizing the walk on stage…
December 28
Two and a half weeks till showtime.
I've been staring at photos of the theater, visualizing the moment when it's finally time to walk out on stage.
Let's picture it together. Whatever your comeback centers around. Take this metaphoric walk with me.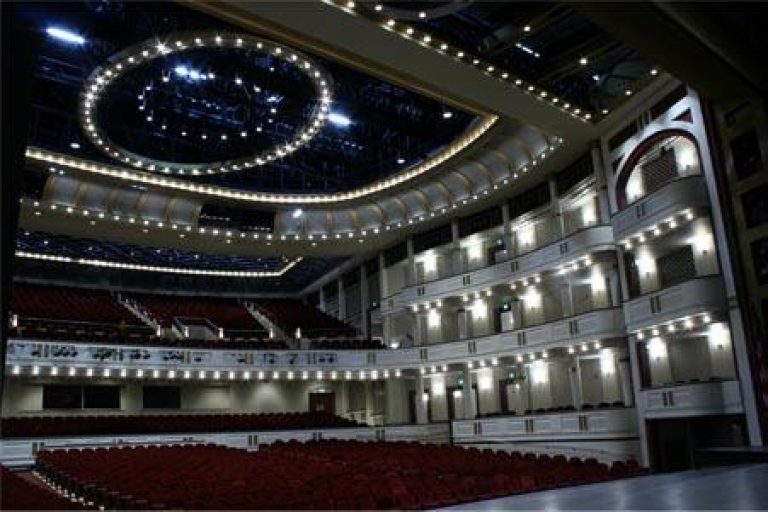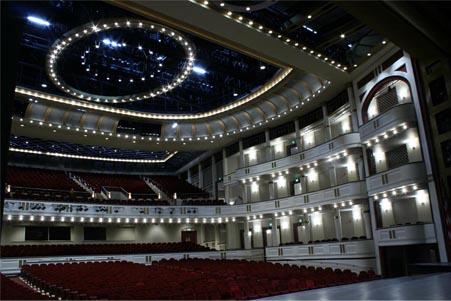 You get so pumped thinking about it the moment.
There's no fear now — just adrenaline.
Two thousand people. A hundred or so your own friends and family. Some flying in all the way from New York, California, even Ireland to witness the event.
You've talked about it for months, and now it's time to show.
Backstage you can feel the energy, the bright hum of friendly chatter. A mood for laughter.
The theater goes black. A cheer rises up.
A friendly voice fills the room from behind the curtain, introducing you; "… give a warm welcome…"
You walk out into the blinding spotlight and feel the enormity of the room.
Every crowd of people form a nucleus. Whether it's 6 people or 2,000, they combine to become one and your job is to make that person laugh with you.
Some things you say will be funny because they're undeniably true.
Some are funny because they could be true, or because they should be true.
Others will be shockingly transparent and too embarrassing to ever admit in public… but there they are.
Your senses are maxed. Anticipating danger, your brain dumps a dose of cortisol to aid your survival.
You're trained to override the flight signal, but only the sound of laughter can trigger the drip of dopamine you need to settle in…
… and the shot of serotonin that allows you to take control.
Oxytocin – released at feelings of trust – is the ultimate goal.
Can you build trust with this stranger?
Will they buy in?
Arms unfolded.
Resistance shattered.
Everyone on this ride together.
Full steam ahead.
This is the vision.
We will see.
===================================
A look inside the workshop
December 27
===================================
That scene from Blues Brothers with the chicken wire in front of the stage
Journal  Nov 28
https://youtu.be/BxGBLKwIcxs
Follow the discussion here on Facebook
Turns out Brandy's Lounge wasn't feeling the open mic love and cancelled it that same day. Maybe they saw some creepy guy shooting videos out front and figured it was getting too weird.
Good news is, another comic I know from the Wednesday workshops named Travis saw my post and reached out to invite me to the open mic at Side Splitters. It was the prefect excuse to get back in at Side Splitters. I worked there many times back in the day and it was always a great room. Bobby Jewell has owned the joint for 25 years and the room is set up for the kill, the staff is tops, and the crowd is trained to laugh.
Side Splitters was on my list of stages I needed to get on to prep for the Mahaffey, but I didn't want to call up any favors. I wanted to earn my way back. So, it worked out great that Bobby stopped in last night. We caught up on things, I did my set in the lobby bar (much different than the main room, but a cool set up), and Bobby gave me some ideas for tag lines. He invited me to work out on the main stage whenever spots come open.
One step closer.
===================================
"Any stage, any time"
Journal – Nov 26th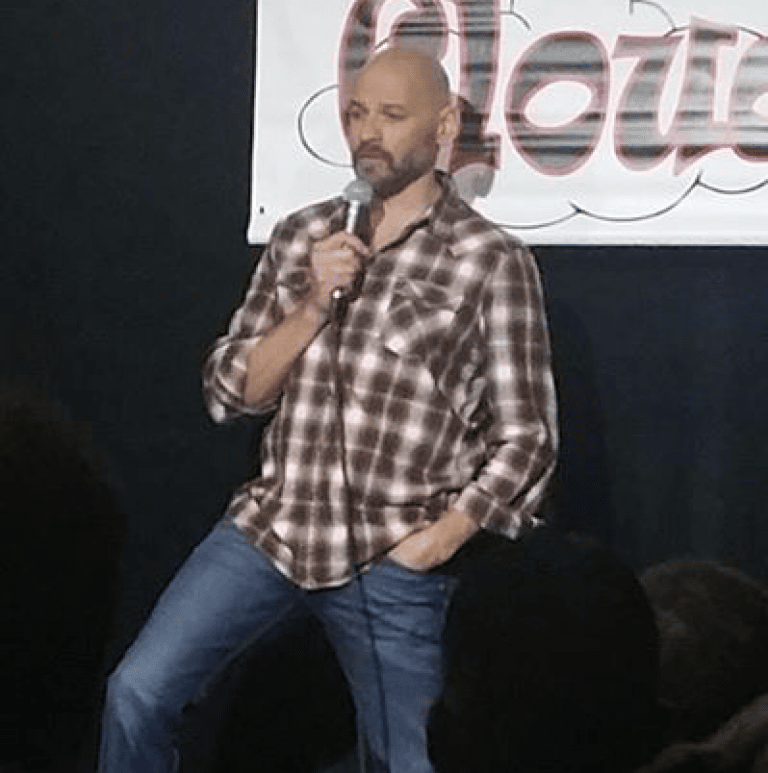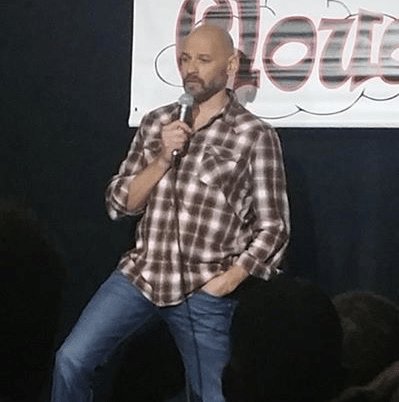 (Playing pocket pool in front of 80 people in St. Cloud)
Unlike other forms of live entertainment, a comedy show can crop up just about anywhere.
Lights, sound, and a gaggle of humans facing your direction. That's all you need to transform any space into a "showroom".
I suppose the same could be said for a singer with an acoustic instrument (pray it's not an accordion), but when it comes to performing "lean", only mimes have us beat on the scale of minimal needs.
Still, as simple as the set up is, there are a thousand ways a booker can screw it up and create a nightmare scenario for a comic.
Every road dog has their own ream of war stories involving adverse conditions; a lectern instead of a mic stand, speakers in the ceiling that make you sound like a airline pilot announcing arrival, 7 couples spread across the room in pockets of isolated disinterest, rather than grouped together to form a "crowd" of 14 (fourteen people sat correctly is plenty for a hot set).
 So, on the way to a new gig, you're always wondering, "what's the room like?"
"I don't know," said my friend Lou when I asked. "But Eric knows a thing or two about putting on a comedy show so I'm sure it's fine."
Eric Godfrey was a road comic who opened shows for Carrot Top and eventually became his production manager before retiring from comedy in 2006 to pursue his Masters degree in education. He's now living in St. Cloud, FL and serving as the athletic director of the high school where his youngest son attends, with another son in college.
So when the Canoe Creek Sports Tavern decided that their side room would make a fine occasional comedy club, they reached out to Eric.
Lou was right, of course. Eric set us up with everything we needed to rock the room. Stage riser, black curtain, mic, two concert speakers flanking the stage and a wooden stool to hold whatever weapons a comic carries up with them (in my case, a beer, an index card with my jokes scratched onto it, and my iPhone for recording).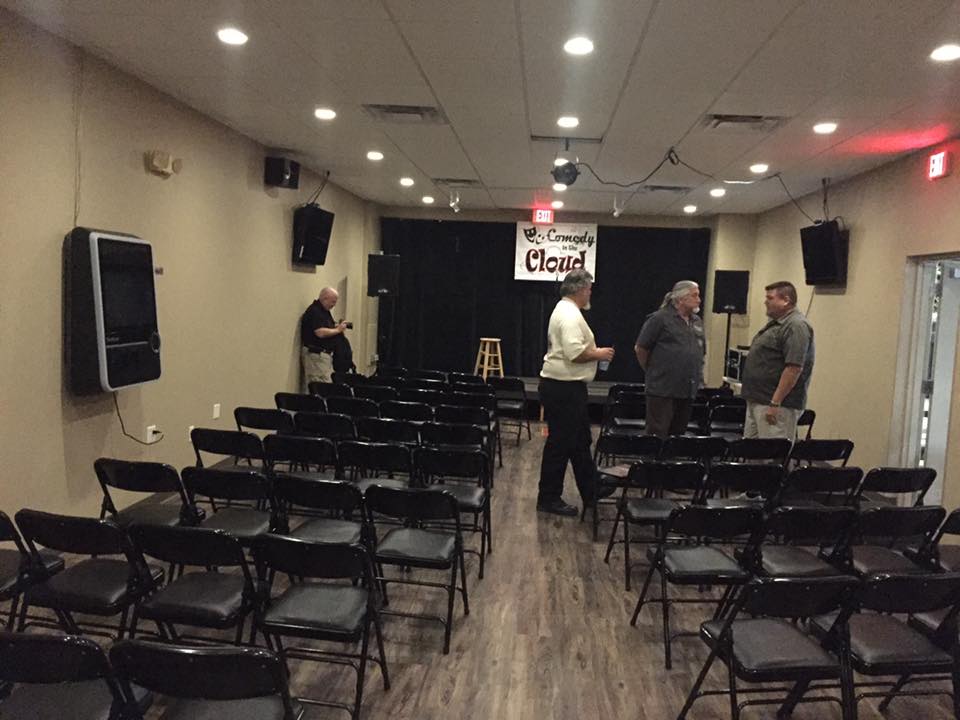 (Vinny, Lou, Eric and photographer, Jesse, before the show)
Vinny Barber is one of those guys that, 5 minutes after meeting him, you feel like you have and you will know him forever. He's not schmoozer, he's a giver. Nothing calculated about it. He just cares for his people, and once you're "in", you're in for a good time.
"Okay, it's official… two-thirds of the crowd know me," Vinny announced as we poured through our notebooks and laughed about how long it's been since we performed comedy with any regularity.
Like me, Vin hung up his road shoes years ago to start his own business. His latest is Jimmy Bears BBQ in St. Cloud. Tonight he was playing emcee, opening the show with 15 minutes. Before the show, he took me around introducing me to his parents, aunts and uncles, daughter and soon-to-be son-in-law and even facetimed his grandson so he could say hello to "Lou Baby."
Lou Angelwolf ("Lou Baby", "Uncle Lou", "Hunkpapa") is the glue that binds comedy in central and western Florida. Like Vinny, he's a natural born "Mayor of wherever he stands" type of guy, making everyone feel welcome with a hug and laugh. I could write an entire book about Lou, as could any of his long-time friends.
Lou was the first guy to introduce me on stage back in 1988, and became the big brother I never had. A deep-thinking "car guy", Lou and I spent countless hours rolling down highways to gigs and across local streets, seemingly always to meet a guy named "Carl" about an engine part, or to pick up a package.
Our friend, Jeff Barrett also came out. I have a feeling he'll be back on stage very soon, too.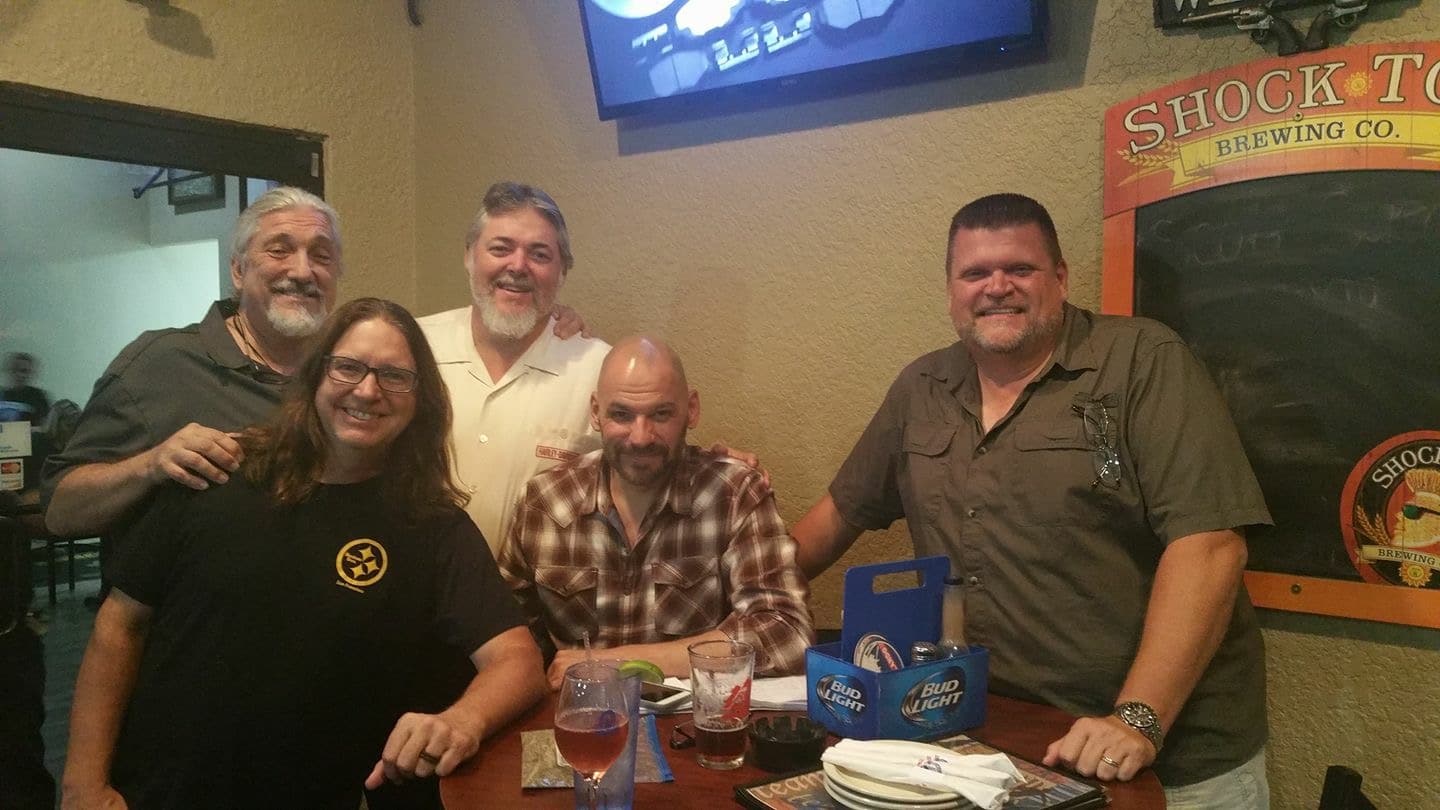 (Angelwolf, Barrett, Barber, Rogers and Godfrey back in the saddle)
It's alleged that certain herbs were used in the making of these early comedy memories. I can't verify this, except to say that many stand-ups suffer symptoms of glaucoma and were onto the medicinal benefits of cannabis long before the American voters got their way. So, you may've written us off as stoners, but history shows we were front line warriors in the fight for medical advancement, thank you very much.
Truth is, I gave up weed years ago because I was tired of feeling paranoid. Some people can smoke and slip into a smooth 3-hour groove of right brained utopia. I would spend half my buzz panicking over whether I left the iron on in the hotel room.
Still, my "90's hippie" reputation preceded me to St. Cloud and Eric presented me with a special gift. A baggie filled with herbs with "Welcome Back To Comedy" written across the top, and "Imported From The Bahamas" under that.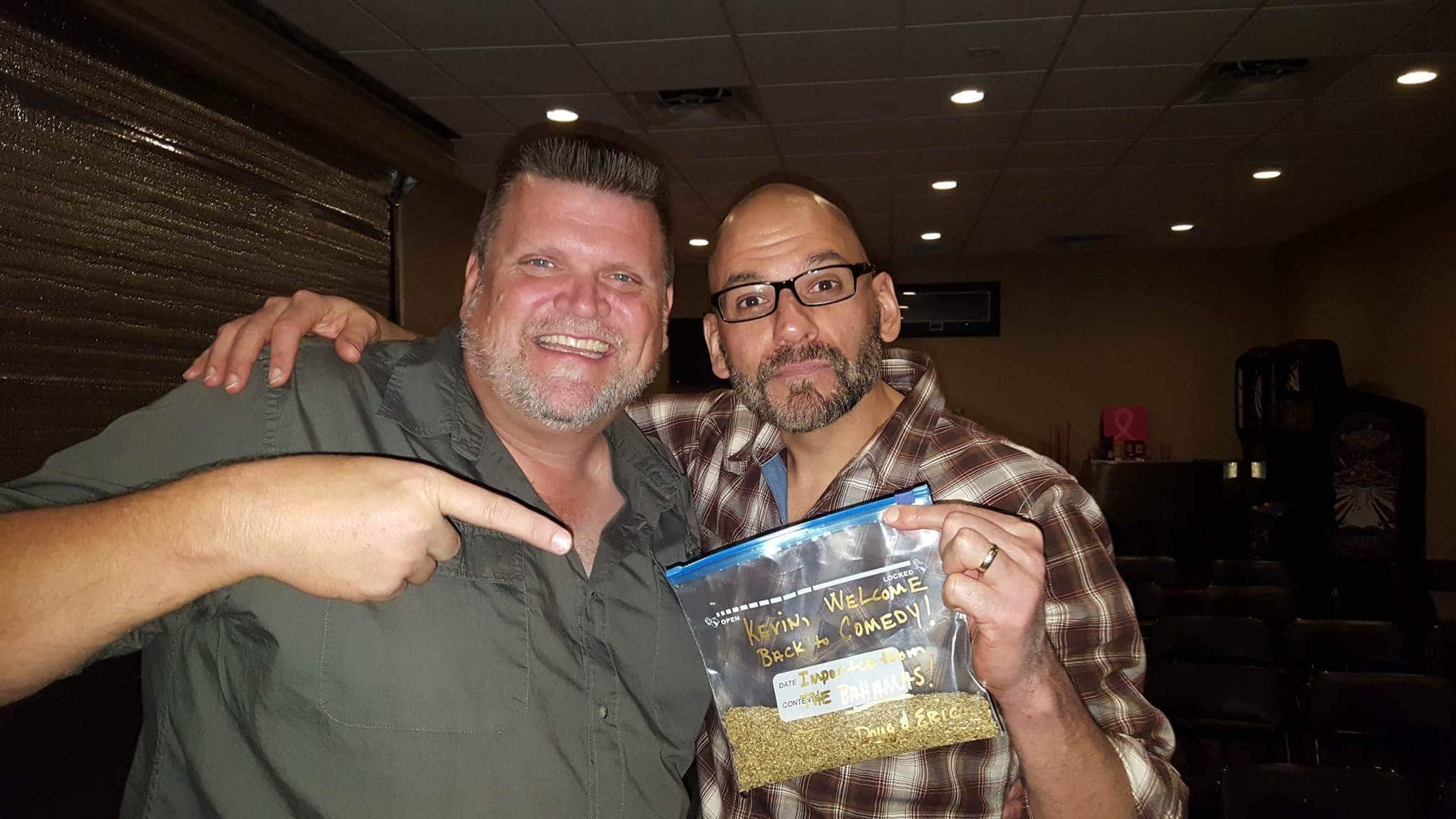 (Memories of scoring "herb" in the Bahamas)
The story goes that Eric, myself and legendary comic Doug Doane were playing a club in the Bahamas and killing time at the harbor. A local waked by and said, "smoke?" and as Eric tells it, "Kevin disappears." Legend has it I followed the guy down an alley where he handed me a small cardboard package, took my money and then dashed away. I returned to Doug and Eric, opened up the box and said, "Fuck. Oregano!" Which is exactly what they filled my welcome back gift bag with last night.
A first rate comedy ball busting 25 years in the making.
The Middle Spot
This was the first real "feature" set since I've been back. The feature (or "middle act") does 20-25 minutes after the emcee and before the headliner. I was a great middle act back in the day. I loved the slot because you came up to a nice warm crowd, but had no pressure to carry the show (and deal with "check drops") like the headliner. So you could just pack your slot with your best stuff and blow the roof off the joint.
In all honesty, one of the problems with my comedy career was that I stayed in the middle spot far too long. I became "too good" at it. Meaning I was a comic with headliner-level chops and experience, but my lack of ambition (or fear of success?) kept me from pushing to close more shows. So I languished in the "glory spot" for most of my career, while friends like Billy continued pushing past their comfort zones and forcing themselves to grow.
The reward for me came in my "second life" as a freelance copywriter where one of the rules I imposed on myself early on was to never get complacent. To always push beyond comfort… with the level of jobs I took on, the guts to push for creative control, and the size of the fees charged. And it payed off.
Sometimes you have to do stuff the wrong way before you can understand how to do it right. Scars are a necessary thing in life and especially in business. You don't want a baby-faced consultant when your money's on the line.
So… here I was Friday night in the middle spot again. Feeling not overconfident, but instead, seriously wondering if I had "a good 20" in me.
The crowd was hot. Vinny absolutely killed for 15 minutes and then gave me a kind introduction. In stand-up, when you first hit the stage, there are sirens going off in every direction. Your senses become overloaded with assessing the conditions…
How bright are the lights? How close is the crowd? How far back can you see? What's the circumference of the stage? What is the energy like up there?
I like to put myself even deeper in the hole by giving into spontaneity to open when the urge hits.
As a young open-mic'r way back when, I watched the great comic Richard Jeni walk on stage at the now de-funked Comedy Corner in Tampa, get handed a rose from a woman in the crowd and improv 15 minutes of pure genius using the rose as his prop. I watched Bernie Mac riff for more than 30 minutes on stories about members of his band from the previous night's gig at a club in Chicago.
Those are golden moments in a comedy club. When the crowd knows the performer is 100% in the moment, walking the edge, spewing off the cuff… there's no other laugh like it. You can get a crowd rolling with planned material, but you can get them howling by riffing in the moment.
So, if there's something there, I always go for it. If not, I go into the act. Just one more thing your brain is busy assessing when you walk onto the stage.
When I hit the stage in St. Cloud the energy was high. The crowd was close. The stage was big enough for two steps in any direction. I said something about Black Friday being for "those other losers", found no magic there and launched into the material.
The set went well. The crowd was generous. I managed to test two new lines, forgot one joke and felt the sigh of victory when I was done at 20 minutes on the nose.
My goal was to get to the "first live draft" 20 minutes by now so I can continue developing the better 20 for the big show on Jan 13th.
So far, so good.
===================================
At Least vs. What If
Journal – Nov 25
In August, when I decided to take on Billy's challenge, I started to get signs that I'd made the right decision.
I'm not a "woo woo" type of dude, but you DO get a feel for what's right or wrong, don't you? I know I do.
The challenge is, do you trust those feeling and march ahead, even if it feels scary?
Or ignore what might be the most important decision of your life?
It's easy to justify saying "no". Especially if you're busy. And we're ALL busy.
Raising our kids, growing our businesses, running careers, being a conscientious — and loving — partner.
I read the book Essentialism by Greg McKeown and quickly adopted its principles.
Great book, if you haven't read it. It's all about knowing what you really want. Focusing all your energy on the essential activities that bring value to your work and your life. And gleefully saying "NO" to everything else.
So when Billy proposed this gig, "No" was the easy, automatic response.
Then something happened that I didn't expect.
Another friend called to tell me he was concerned about me.
"Huh? Whattya mean, concerned?"
"I'm sensing a low-level depression. You're wearing all these Mr. Responsible hats. When is the last time you did something just for yourself?"
This is that friend who sees past all the polish you THINK you're putting on your paint, and loves you enough to call out that little spot of rust poking through.
(I'll protect this person's privacy, but if you're curious I'll tell you that they were a guest on The Truth About Marketing podcast and their episode is one of the most inspiring.)
I won't go into the whole psychological unraveling process that followed our conversation, except to say that I know I am not alone in this problem.
A bit of raw honesty… all those responsibilities we acquire as we grow into adulthood — they have a way of sucking the fun out of life.
Now, I know we're not supposed to admit that.
We're only supposed to say how rewarding it is to be a parent, and a spouse, and a business owner, or a valued employee and be GRATEFUL for all the opportunities this life has given us to succeed and blah, blah, blah, blah blah.
Look, all that is true.
I'm fully aware of how awesome my life is.
I'm grateful every day for the family and the friends that color my world, and have my back, and set me straight when I'm full of shit.
I've stood on death's doorstep and have the audible tick of a mechanical heart valve in my chest to remind me ever minute of every day that I am blessed to living in the bonus round. And that your health can fail on any given day and life can always suck way harder than you think.
So, "seeming a little down" is really nothing to bitch about, and, in fact, may be just how it fucking goes when you're out there trying to build something that will last, without ruining any relationships along the way.
I get it.
However, I don't believe in "at least".
I think "at least" is a shit way to go through your life.
"Well, I may not feel great, but at least I don't have a disease."
"I may not be rich, but at least we're not out on the street."
"I may not feel inspired, but at least I don't hate my job."
Fuck "at least".
"At least" IS a disease.
Because if you're in a position to compare your situation to people who have it worse, then aren't you you also in a position to strive for something way better?
Instead of at least, couldn't you just as easily be focused on what if?
"Well, things are okay right now, but what if things were truly awesome? What would that look like?"
"The money is decent, but what if we earned twice as much? What would it take to do that?"
"I feel pretty good about my body, but what if I felt beautiful in my skin? Who do I know who feels that way? How did they do it?"
See how two simple words can flip your entire perspective on life?
Of course, saying it and doing it are very different things, but it starts with semantics.
In the comedy writing workshops we have every Wednesday, each comic jumps on stage for ten minutes and introduces new material. The rest of us listen and then start riffing on alternative angles, tweaks to the wording, and sometimes completely different perspectives on the joke.
One the ways we find the better joke together in these sessions, is to "flip it."
"No, no, I see the joke the other way… what if you just flipped it…"
A critical element in the creative process is the ability to see the same premise through different lenses.
Like good copywriters, good comics have a lot of empathy for how other people see the world. A lack of empathy breeds myopia and kills your ability to see all the possible angles for the joke.
The ability to flip jokes also gives you more options for how to fit the joke into your act without sabotaging other jokes that follow.
For instance, maybe you originally saw the joke where you were the victim, but it's funnier to flip it and make the other guy the victim and you the observer. That way you can be the victim of a later joke without overplaying the theme. That's just one example, but you see what I mean?
Point is, it's all about perspective, and two simple words like "at least, or "what if" can make all the difference in the world.
Next time you hear yourself say "at least", flip it and try "what if" instead.
It's magic, I tell ya.